100 Years Ago, Camp Cody's "Grand Old Man" formed 34th Infantry Division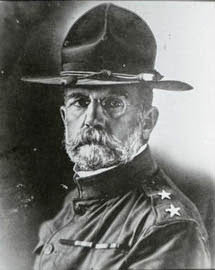 By Master Sgt. Daniel Ewer
Minnesota National Guard Command Historian

Jan. 10, 2018 – Decorated veteran Augustus Blocksom was a man of his time, but times were changing. He exemplified Progressive Era America prior to the Great War. Blocksom participated in all the major US Army campaigns for nearly a half-century. He fought American Indians, Spaniards, Chinese and Filipinos. He brought that experience to Camp Cody, New Mexico where he assembled units from across the mid-West to form the 34th Infantry Division in 1917.
Blocksom's leadership and experience was critical in the development of the 34th Infantry Division in its first year. In the austere desert environment, Blocksom took ill-equipped and inexperienced soldiers of many races, languages and nationalities and guided them through tough military and social training to form a cohesive, combat-ready US Army infantry division. Unfortunately, at age sixty-three, Blocksom faced mandatory retirement before he could deploy to France, but his division was formed and ready.[1]
Augustus Perry Blocksom Jr.'s regular Army career began upon his graduation from the US Military Academy at West Point in the top third of his class. This sharp cadet was noted for his "remarkable powers of mental concentration."[2] In 1877 he was commissioned Second Lieutenant and began the first of many Cavalry assignments in the 6th Cavalry in Arizona. He commanded Company C (Indian Scouts) and fought Apaches on multiple occasions. In 1884 he was promoted to First Lieutenant and served as Professor of Military Science and Tactics at Ohio State where he married his wife of forty-six years, Sarah Griswold Beaumont Leuffer. In 1887, he accepted a second teaching position in Cavalry and Law at the Fort Leavenworth School of Application. Two years later he returned to frontier duty to fight Apaches in Arizona and Dakota Indians in South Dakota.
Capt. Blocksom fought in the Spanish-American War in Santiago de Cuba on July 1, 1898, when he was wounded in the assault on San Juan Hill. He received the Silver Citation Star from General Franklin D. Baldwin "for most gallant conduct under heavy fire of shrapnel and small arms at San Juan Hill. He performed arduous services in trenches at the siege of Santiago under intense heat and desultory fire of the enemy; deserves every consideration of the government."[3]
This die-hard cavalryman declined a promotion to Major in the 27th US Volunteer Infantry in 1899. He stayed in the Cavalry where his promotion took four more years.
In 1900, he commanded the 6th Cavalry in the Chinese Campaign and was again cited for gallantry. He received his second Silver Citation Star for his charge against the Boxers in Tientsin. According to one account, "Two hundred men of his command charged across a Chinese graveyard against several thousand insurgents and routed them."[4]
Capt. Blocksom served in Manila, Bogo, and Malabang, Philippines during the insurrection. Maj. Blocksom served as an Inspector General in the 1st Cavalry at Fort Clark, Texas in 1905. After another tour of the Philippines, and a short stay at Fort Des Moines with the 6th Cavalry he was quickly promoted to Lieutenant Colonel and full Colonel.
Col. Blocksom was promoted to Brigadier General during his service in Texas where he repelled border raiders from Mexico. General Funston, Department Commander said, "The duties performed by General Blocksom during the border raids of the summer and fall of 1915 were of the most trying and exacting nature, and he met every situation with judgment. He had numerous opportunities to involve us in serious international complications, but never once lost his head. He has shown himself to be a most dependable officer, and has a record to be proud of. I strongly recommend his promotion."[5]
In 1917, Blocksom received that promotion and command of the 34th Infantry Division at Camp Cody, New Mexico. Later that year Maj. Gen. Blocksom and his immediate staff toured the battlefields of France. According to his American Red Cross field director, "It is the intention to have all the Division Commanders visit France for a couple of months in order to put them into immediate personal touch with the way things are done over there. Then they come back to their posts primed to put the finishing touches on their troops before taking them across."[6]
As Maj. Gen Blocksom's Camp Cody command came to a close, he believed his soldiers were ready for the fight. "I am very grateful to all of them for the cooperation which we have received here," he said. "I consider that this division is progressing very favorably as a result of the school work and the program of training which has been adopted. We hope now to be across the water in a few months."[7] Unfortunately, when the division deployed to France it was broken up to support other commands.
In April 1918, Blocksom earned an honorable discharge from the National Army and transferred to a Regular Army command the Hawaiian Department as a Brigadier General until his retirement in November.
Blocksom left Camp Cody with the great appreciation of his soldiers. "Cody's 'Grand Old Man,' beloved by every man in the Deming camp and a dynamic leader in American military circles for years, is to leave his command in the 34th division, the camp which he has guided and directed since its inception and institution among the foothills of the New Mexican desert, for a broader range of activities in the great American possessions in the Pacific.
In leaving Camp Cody for his new post, brigadier general Blocksom leaves as many friends and devoted well-wishers as there are men in camp, besides his wide circle of friends in civilian life. During his connection with the Deming camp, he has been popular with both officers and enlisted men and many expressions of regret at the transfer are heard on all sides. But what is lost to the sunshine division, is gained by the Hawaiian department and all Cody stands up to bid God speed to its retiring commander, congratulating the Pacific lands of Hawaii upon its invaluable acquisition."[8] Having served forty-one and a half years he was promoted to Major General, Retired in 1930. At seventy-six years, he died in Miami, Florida and was buried in Arlington National Cemetery, Virginia.
According to West Point, "When we examine his record, consider the services he has performed and the findings of his superiors in rank as to how they were performed, we have no hesitation in saying that he not only served his country well, but unusually well."[9]