1st Combined Arms Battalion, 194th Armor Regiment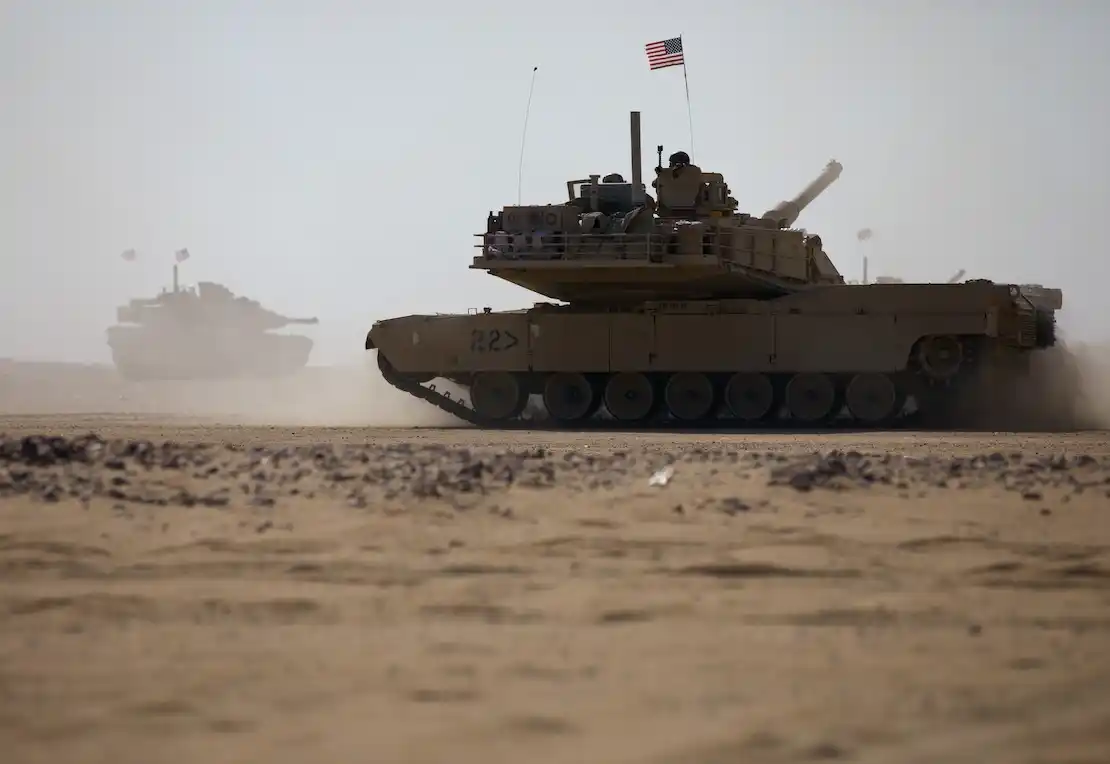 Unit Information
1st Battalion, 194th Armor Regiment, is a Minnesota Army National Guard battalion headquartered in Brainerd, Minnesota. The mission of 1-194 AR is to provide heavy armor and mechanized infantry ground combat power to the 1st Armored Brigade Combat Team, 34th Red Bull Infantry Division.
There are 5 major units in the 1-194 AR: Headquarters and Headquarters Company in Brainerd, A Company in Sauk Centre, B Company in St. Cloud, C Company in East St. Paul, and G Company at Camp Ripley.
2022 Objectives
Reset the battalion following its successful 2021 deployment to the Middle East in support of U.S. Central Command's Operation Spartan Shield (OSS) and Operation Inherent Resolve (OIR). Army reset refers to systematically restoring a deployed unit to an appropriate level of equipment, Soldier, and family readiness in preparation for future deployments and contingencies. The 1-194 AR will complete its reset in the spring of 2023 transitioning to modernizing of its equipment and weapons systems through new equipment fielding in preparation for future training exercises and/or mobilizations.
2021 Accomplishments
2021 marked the completion of a complex training year (2020) which culminated in training events and preparation for the battalion's deployment to the Middle East in support of Operation Spartan Shield (OSS) and Operation Inherent Resolve (OIR). Soldiers and leaders of the1-194 AR demonstrated professionalism and continued adaptability while operating in more than nine countries throughout the Middle East.
While deployed for Operation Spartan Shield, Task Force Bastard was comprised of 1,100 Soldiers. Five companies came from 1-194 AR, two companies from the 2-136 IN, and two companies from the 134 BSB. Task Force Bastard's task was flexible in its capabilities and adept at providing armor and mechanized infantry ground combat power, as well as logistical and health care sustainment support throughout the Middle East.
In August 2021, Task Force Bastard, serving as the CENTCOM Regional Response Force (RRF) based out of Camp Buehring, Kuwait, helped the 504th Parachute Infantry Regiment (PIR), 82nd Airborne Division secure Hamid Karzai International Airport in Kabul during the evacuation of U.S. citizens and allies, following the drawdown of U.S. forces in Afghanistan.
The task force — trained and postured for rapid deployment within the CENTCOM area to support strategic and operational requirements — worked alongside units from the 504th PIR - 82nd Airborne Division, 10th Mountain Division, Marine Special Purpose Air Ground Task Force, and Marine Expeditionary Unit, to support Operation Allies Refuge by securing vital sectors of Hamid Karzai International Airport and providing humanitarian assistance to U.S. citizens, special immigrant visa holders, and their families.
Task Force Bastard received the U.S. Army Deployment Excellence Award for FY 21 Large Deploying Unit Category. The award encompasses the many accomplishments that Task Force Bastard was able to achieve while moving from CONUS to OCONUS in support of Operation Spartan Shield (OSS) and Operation Inherent Resolve (OIR). The Deployment Excellence Award (DEA) is designed to recognize Army units for outstanding accomplishments which meet or exceed Army deployment standards. The DEA program is co-sponsored by the Army G-3 and G-4. The Chief of Transportation (COT) is the executive agent for the program.
Unit History
On February 10, 1941 Brainerd's 34th Tank Company, Minnesota National Guard, commanded by Ernest B. Miller, was Federalized and ordered to Fort Lewis, Washington for training.  At Fort Lewis, the 34th Tank Company was combined with units from St Joseph, Missouri and Salinas, California and redesignated as the 194th Tank Battalion.  Major Miller was appointed the battalion commander.
The 194th Tank Battalion, less Company B, was ordered to reinforce the Philippine Islands arriving in Manila on September 26, 1941.  The 194th was the first Tank unit in the Far East prior to WWII.  In August 1941, Company B had been reassigned to the Alaskan Defense Command.  This was the first Armored unit sent outside the Continental United States.
The 194th Tank Battalion was stationed at Fort Stotsenburg near Clark Field on the Island of Luzon, where they trained until the outbreak of the war on December 7, 1941.  After the invasion of the Philippines by the Japanese, the Battalion was crucial to the beleaguered defense of Luzon and the Bataan Peninsula.  The 194th held vital positions throughout the Islands defense until the fall of Bataan, on April 9, 1942, when ordered to surrender by General King.  For their outstanding performance of duty in action, the 194th Tank Battalion was awarded three Presidential Unit Citations.
Following the surrender, the weakened and diseased defenders, including men of the 194th Tank Battalion, were ordered on the infamous Bataan Death March by their Japanese captors.  The Soldiers began marching northward on April 10, 1942 from Southern Bataan and arrived on April 13, 1942 at Camp O'Donnell.  The 194th prisoners were marched along with other prisoners from near Mariveles to San Fernando, then they were packed into rail cars and moved to Capas and ended with a march to Camp O'Donnell. The prisoners, without food or water, experienced extreme cruelty and atrocities dealt by the Japanese, marched a total of 60 miles.  Nearly 10,000 troops died, both American and Filipino.
From Camp O'Donnell, where hundreds died, many prisoners were sent to other camps in the Philippines.  Designated POW's, included men from the 194th, who were eventually packed into the holds of unmarked transports known as "Hell Ships" and were moved to labor camps in Japan.  Many of these unmarked POW "Hell Ships" were sunk unknowingly by the US Navy enroute to Japan, killing many POW's.
Of the original 82 Officers and men of the 34th Tank Company who left Brainerd, 64 accompanied the 194th Overseas to the Philippines.  One man was wounded and evacuated, 2 were transferred to OCS, 3 were killed in action, 29 died as POW's, and 29 survived captivity.
Of the original 64 National Guardsmen, only 32 survived to return to Brainerd after the end of WWII.
The 1-194 AR battalion motto is "Remember Bataan ... Never Forget!"
Today, 1-194 AR stands ready to provide personnel and equipment in support of federal, state and community missions to assist and/or protect the citizens of Minnesota and the United States.