133rd Airlift Wing Emphasizes Combat Readiness Training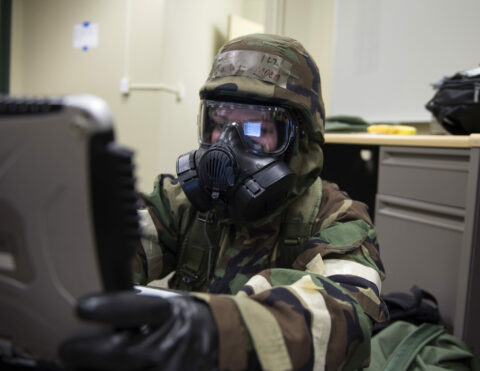 June 28, 2018 (ALPENA, Michigan)  — Approximately 300 U.S. Air Force Airmen from the 133rd Airlift Wing participated in a readiness exercise at the Alpena Combat Readiness Training Center, Alpena, Mich.
The exercise, tagged as Iron Ore, was designed test the Airmen abilities to set up operations at an unfamiliar location and receive in depth training on Ability-To-Survive and Operate (ATSO) principles while supporting airlift and aeromedical flight operations.
To ensure mission success and readiness, Airmen had to complete training at home station prior to leaving for Alpena. Some of this training included weapons qualification, gas mask fit testing, Mission Oriented Protective Posture (MOPP) familiarization, self-aid and buddy care and career field training.
"To get everyone on the same page, we conducted ATSO training. The training was provided in classroom setting and covered PAR [Post Attach Reconnaissance] routes, m8 paper and putting on the mask," said U.S. Air Force Airman 1st Class Morgan Johnson, an emergency manager with the 133rd Civil Engineer Squadron. "Here (at Alpena) we had the members take apart their masks, piece by piece, set up PAR routes and were taught how to report the information."
The last time the wing participated in a readiness exercise was eight years ago. As a result, for more than half of the Airmen it was their first time experiencing this type of training.
"I didn't know what to expect," said U.S. Air Force Senior Airman Nicolette Weis, a knowledge management specialist with the 133rd Communication Flight. "I remembered donning MOPP gear at basic and I assumed it would be similar. The best thing I did to prepare for this was to go into the exercise with an open mind. I was ready to learn, knowing that I would make mistakes."
Iron Ore provided Airmen with a new level of understanding about the importance of their job.
"We have patients," said U.S. Air Force Tech. Sgt. Danielle Wilson, a medical technician with the 133rd Medical Group. "We had to remember that we have to take care of ourselves first. Also, we had to know what to do with our patients afterward by putting on their MOPP gear. It was a scenario which I have never thought of."
Other Airmen echoed this perspective as well. Throughout the course of the readiness exercise, participants provided feedback that the training was beneficial.
"The training exceeded all expectations," said Weis. "This exercise allowed me to understand what it was like to wear MOPP gear while performing my job. This experience provided outstanding training and I would highly encourage other Airmen to volunteer at the next opportunity!"
Story by Tech. Sgt. Amy Lovgren
133rd Airlift Wing