133rd Phoenix Raven team supports world-wide missions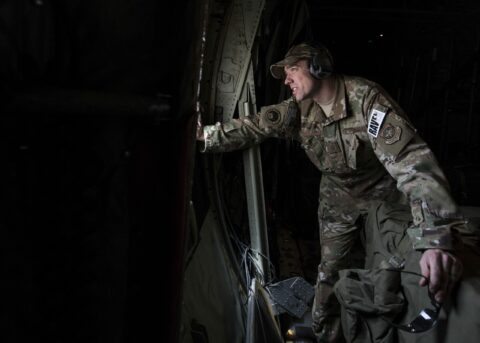 April 6, 2021 (ST. PAUL, Minnesota) — As a kid, U.S. Air Force Tech. Sgt. Andrew Dotas described how he could never have imagined being part of a program like the Phoenix Raven. Dotas values the incredible experiences he has had being part of the 133rd Airlift Wing's Phoenix Raven team.
Dotas' enthusiasm for the opportunities to experience the world while doing a job that he loves is evident, "It is a very honoring experience and privilege to be able to see this many places while I am doing my job."
Eight specially-trained, highly-qualified Airmen make up the team of Phoenix Ravens at the 133rd Airlift Wing. They provide necessary security for Air Mobility Command (AMC) worldwide. This elite team supports aircraft and aircrew missions into any austere environment that requires personnel or cargo.
The Air Mobility Command's Phoenix Raven program was founded in 1997 and is unique to the U.S. Air Force and the U.S. Navy. Phoenix Raven candidates must prove their physical and mental fitness through three intense weeks of selection training at Fort Dix, New Jersey. Candidates that pass the schoolhouse training must successfully perform a minimum of two preceptor training missions before earning the title of "Raven."
Ravens at the 133rd Airlift Wing support several missions across AMC. The primary focus centers on aircraft and aircrew security, detainee operations, humanitarian missions, air marshaling duties, and loadmasters support. Most recently, Ravens from the 133rd Airlift Wing have supported hurricane relief missions across the United States, the 2021 Inauguration of President Joe Biden, and the Minneapolis civil unrest in the summer of 2020. The 133rd Airlift Wing has the fourth-largest number of Ravens in the Air National Guard; many of these airmen serve their local communities as civilian police officers.
Calls for Raven support can originate from any base within AMC or nationwide. Typically, a Raven will volunteer and respond to an average of five to ten missions per year. A mission generally requires a two to three-week commitment consisting of multiple assignments or more extended missions called stages. The Raven will complete multiple combat missions spanning an average of six months in austere locations such as the U.S. Central Command or U.S. Africa Command.
U.S. Air Force Staff Sgt. Derek Jahn, Raven team member, is humbled by the opportunity and recognizes his counterparts, "I am just so proud of our Ravens and feel blessed to be a part of the team." Jahn continues by sharing that he is grateful for Wing leadership and Security Forces Squadron leadership's support, allowing the team to continue the critical security missions within the state and abroad.
Story by Tech. Sgt. Bristol Evasco, 133rd Airlift Wing