148th "Defender" graduates from Air Force Weapons and Tactics Instructor Course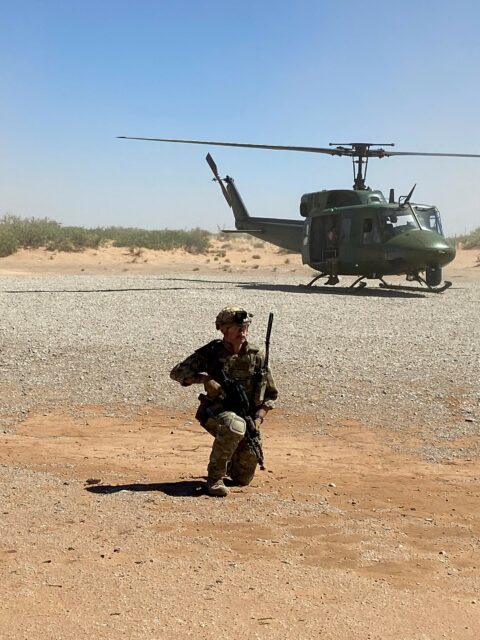 148th Fighter Wing Security Forces specialist, and Patrol Officer with the Duluth Police Department, Tech. Sgt. Reid Erickson graduated from the U.S. Air Force's Weapons and Tactics Instructor course held at the Desert Defender Ground Combat Readiness Training Center, Fort Bliss, Texas on May 26, 2023.
The twelve-week course provides an advanced curriculum that combines intense academics with field training exercises and weapons range training using a full spectrum of weapons and ammunition. The course goal is to make warfighters more lethal and prepared for all missions by having a better understanding of Doctrine, being more tactically proficient and able to provide viable solutions to any situation.
"Any graduate of this course can provide their commander with a tactical advisor who is able to critically think, observe Operation plans and align doctrine and training to ensure all Defenders are prepared for any mission they are tasked to perform," said Master Sgt. David Green, Chief of Weapons and Tactics, Air Force Security Forces Center – Desert Defender, Ground Combat Readiness Training Center, Fort Bliss, Texas.
Students spent time conducting basic and advanced weapons firing. The students are taught and tested on instruction methods so they can teach similar courses when returning to their home stations. In addition to firing, the students learn and practice advanced tactics to include tactical communications, fire teams, squad movements, mounted operations, close quarters combat and urban operations. The advanced tactics segments then lead to Field Training Exercises where students planned a mission, oversaw an operation and conducted a thorough debrief.
Erickson, who serves as a Fire Team Leader with the 148th Security Forces Squadron, said "the hardest part of the course was the academic rigor necessary to be credible tactical advisors to our commanders." Erickson's favorite part of the course "was creating a full mission profile field training exercise. We had the opportunity to incorporate the 54th Helicopter Squadron from Minot Air Force Base, N.D. into our exercises, which provided value."
"Completion of the course aligns the Air National Guard with the Total Force and plays a key role in the future of shaping how Security Forces fights and operates as an enterprise" said the National Guard Bureau's Security Forces Domestic Operations Manager and Interim Security Forces Career Field Manager, Senior Master Sgt. Patrick Judy. Eight Air National Guard Defenders have completed the course since its inception in 2021. "Air National Guard Weapons and Tactics Instructors can identify improvements on training warfighters in a time and resource constrained environment," added Judy.
In the last decade, personnel from the 148th Security Forces Squadron have deployed to the 409th Air Expeditionary Group, Niger and a half dozen locations within the Air Forces Central area of responsibility throughout Southwest Asia. "Future missions will require personnel to deploy in smaller teams under the Agile Combat Employment framework," said 148th Mission Support Group Commander, Col. Ryan Kaspari. "The high caliber training from the Weapons and Tactics course provides our best and brightest with a powerful skillset necessary to keep Commanders informed, and to prepare and equip multi-capable airmen for the challenges of future missions," said Kaspari.
By Audra Flanagan
Minnesota National Guard Public Affairs