148th Fighter Wing, a Family Tradition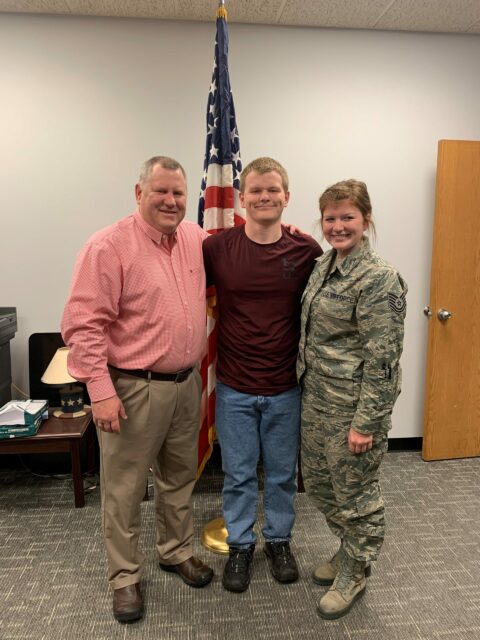 November 4, 2020 (DULUTH, Minnesota) — We've all heard the phrase "the Guard is a family". For Tech. Sgt. Kristianna Konietzko, a Training Technician in the Force Development Office, the phrase is quite literal. Kristianna Konietzko, a Cloquet High School graduate, is the third-generation of her family to serve at the 148th Fighter Wing, Minnesota Air National Guard in Duluth, Minn.
Kristianna Konietzko enlisted in February 2013 at the age of 17. Alongside her was her father, Chief Master Sgt. Kraig Konietzko (ret) and listening in via telephone from Florida was her grandfather, the late Chief Master Sgt. John Konietzko (ret), who served in active duty and at the 148th for a combined 36-years.
Kristianna Konietzko, who used the Montgomery GI Bill and Minnesota State Tuition Reimbursement to fund her Bachelors of Science in Elementary Education at the College of St. Scholastica, says "her dad was definitely the main reason I enlisted."
"My dad had talked to me about joining since I was in middle school," said Kristianna Konietzko. "Hands down, it was the best decision I've ever made," she added.
Kraig Konietzko served in a variety of maintenance and Human Resources Advisor positions at both the 148th and Minnesota's Joint Force Headquarters over his 26-year career. One of his fondest memories is "serving at the same time as my dad at the 148th, we were both working in Maintenance at the same time," he said
Kristianna Konietzko was honored to have both her father and grandparents at her Basic Military Training (BMT) graduation at Joint Base San Antonio-Lackland, Texas. Her grandfather was the one to tap her out of her BMT graduation ceremony. "When he tapped my shoulder, he had tears streaming down his face and he told me how proud he was of me."
Airman First Class Luke Konietzko, Kristianna Konietzko's brother, enlisted in March of 2020. Luke Konietzko, who is attending Airfield Management technical school at Keesler Air Force Base, Mississippi, had a very different BMT experience. Due to COVID-19, family members are not currently allowed to attend BMT graduations. "I watched virtually," said Kraig Konietzko, "It was tough not to be there," he added "but I look forward to seeing him soon."
Luke Konietzko, who grew up hearing positive remarks about the people, jobs and opportunities at the 148th, said "my family played a major role in my decision to enlist." "I felt like this was a perfect time to grow as a person and I wanted to contribute in my own right."
Luke Konietzko will complete technical training and return later in the month and plans to use his educational benefits to further his education at the College of St. Scholastica.
When asked what she would tell a friend or family member who was considering enlisting, her quick response was "Do it!" Krisitanna Konietzko added "since enlisting, I've gained a job that I love, friendships that I couldn't live without and a life I couldn't imagine without the 148th Fighter Wing."
The 148th Fighter Wing is an F-16 Air National Guard flying wing located in Duluth, Minnesota. Its mission is to protect America's global interests and defend the homeland with exceptional people, aircraft, equipment and capabilities. 
Story by Audra Flanagan, 148th Fighter Wing