148th Fighter Wing Airmen feed the troops during Presidential Inauguration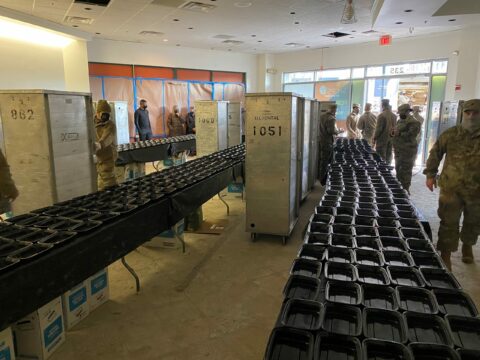 January 23, 2021 (WASHINGTON, D.C.) — Prior to January 6th, 2021 eight Services Specialists from the 148th Fighter Wing, Minnesota Air National Guard were already prepared to support the 59th Presidential Inauguration. The Airmen planned to serve up 2,500 National Guard service members daily out of a mobile Single Pallet Expeditionary Kitchen, or SPEK kitchen. SPEK kitchens are utilized during both overseas and domestic operations.
The scope of the mission changed dramatically after the National Guard was charged to increase its presence in the National Capitol Region to ensure safety and security during the Inauguration. More than 25,000 citizen-soldiers and airmen from 54 states, territories and DC are currently providing security, communications, medical evacuation, and other support to civilian authorities throughout the Presidential Inauguration.
Air National Guard airmen from Arizona, Kentucky, Maryland, Missouri, Minnesota and Tennessee partnered with restaurant staff, caterers, drivers and volunteers to prepare and deliver hot meals to service members supporting the Inauguration.
148th Services specialist, Master Sgt. Christopher Simonson served as the team lead for 148th members who were assigned to Delia's Mediterranean Grill & Brick Oven Pizza with the goal of serving 15,000 meals per day. "This is one of those opportunities in my military career I could not pass up," said Simonson, a 20-year veteran of the 148th who has deployed to Al Dhafra Air Base, United Arab Emerites in 2008 and Thumrait Air Base, Oman in 2012. "We're augmenting restaurant staff any way we can. We're working alongside volunteers and staff unloading trucks, cooking meals and assembling to go containers," said Simonson.
Delia's is located in a strip mall in nearby Alexandria, Virginia. In a Facebook post, the restaurant announced "we are honored to be selected to provide meals to the National Guard this upcoming week." In addition to Guard members from the 148th Fighter Wing, airmen from the Arizona, Kentucky, Maryland, Missouri and Tennessee Air Guard assisted restaurant staff and volunteers.
"The feeding operation was expanded into unused store spaces to increase food production capabilities," said Simonson. Delia's and its partner company, Heirloom DC, was one of a handful of local establishments contracted to feed National Guard members.
Once meals were prepared, HUNGRY Catering also based in Arlington, Virginia drove and delivered meals to a nearby armory for dissemination to National Guard members. HUNGRY is also a food delivery and logistics platform serving in all 50 states. According to its website, HUNGRY has partnered with municipalities and non-profits to deliver over two million meals to seniors and children across the country during the COVID-19 pandemic.
Services specialist, Staff Sgt. Krishia Baltazar, who deployed to Puerto Rico in 2017 in support of Hurricane Maria relief operations, said "supporting service members in this capacity has been one of the most rewarding missions I have been a part of. My favorite aspect was all the Services units from different states came together like we've been working alongside each other for a long time."
Upon his return, Simonson will return to State Active Duty status as he supports a COVID-19 testing site at a Minnesota National Guard Armory in Hibbing, Minnesota. Simonson has been supporting the Minnesota National Guard and Minnesota Department of Health COVID-19 support partnership since October 2020.
Baltazar will return to her job as a phlebotomist at St. Luke's Hospital in Duluth, Minnesota and to her student status at the College of Saint Scholastica. Baltazar will graduate in May with a major in biology.
A3 Director of Operations for the Minnesota Air National Guard and Director of the 148th Mission Support Group, Col. Curt Grayson said "our members were able to adapt and use their experience to work with a local restaurant. It's great to see the flexibility of the Guard."
Airmen from the 148th were among nearly 750 Minnesota National Guard soldiers and airmen who provided security, medical evacuation and logistical support to the 59th Presidential Inauguration.  The 148th Fighter Wing is located in Duluth, Minnesota.