148th Fighter Wing Airmen graduate basic training amid COVID-19 pandemic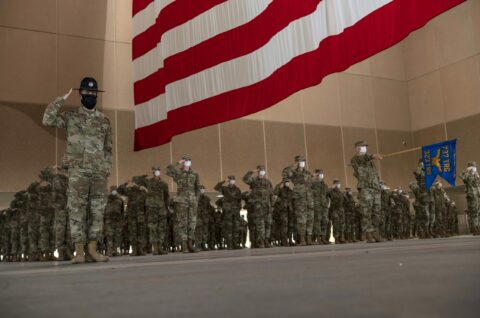 April 20, 2020 (DULUTH, Minnesota) — On April 9, 2020, 1400 trainees graduated from Air Force Basic Military Training (BMT) at Joint Base San Antonio-Lackland, Texas; all wearing masks amidst the COVID-19 pandemic.  Of the 1400, three were Bulldogs of the 148th Fighter Wing.
Airman 1st Class David Cornelius, Airman 1st Class Ivy Grochowski, and Airman 1st Class Sebastian Haugen all graduated without the fanfare we've grown accustomed to. Instead of celebrating with an airmen's run, coining ceremony and a full graduation ceremony with a parade, Airmen now experience a simpler ceremony at least six-feet away from fellow graduates. Family and guests can view the ceremony via USAF BMT's Facebook live stream or USAF BMT's YouTube channel.
Since the COVID-19 pandemic commenced, Air Force BMT has changed many of its processes. On March 10, the Air Force stated it would no longer allow family members and guests attend BMT graduation ceremonies as an effort to slow the spread of COVID-19.
Trainees arriving after March 19 were placed in a 14-day "restriction of movement" phase as another mitigation process to slow the spread of COVID-19. On March 9, the Air Force announced it was temporarily shortening BMT to seven-weeks and reducing the number of trainees who report for duty from 800 to 460.
Shannon Cornelius, mother of Airmen 1st Class David Cornelius, proudly watched her son from her business, Yellow Bike Coffee in Hermantown, Minnesota, with her other four kids via the Facebook live stream option. Cornelius, her parents, and kids had just purchased plane tickets and secured lodging to see their Airmen graduate when they had been notified that family members and guests were no longer allowed to attend graduation events.
Cornelius was thankful for the private Facebook group created and moderated specifically for the families of basic trainees. As the COVID-19 pandemic began to spread, the 37th Training Wing provided important and timely information about mitigation procedures, not allowing family members and guests on base for graduation and the ability to view graduation ceremonies. "They provided an effective front-line communications tool for the masses," said Cornelius. "The military is creating systems, re-evaluating systems, pivoting and redirecting as needed."
Airman 1st Class Cornelius has moved to his next duty station where he'll receive technical training as an Aircrew Egress Systems specialist. Eight 148th airmen have completed BMT since mid-March and 27 airmen are currently attending technical training courses.
"These are challenging times in all our lives" said Mission Support Group commander, Lt. Col. Curt Grayson.  "In the military we must continue to train for the next challenge.  These airmen have started that journey and will be ready to defend our country against this current threat as well as future threats.  It is impressive to see these airmen stepping up and continuing their commitment during these times.  I am confident the future of our military is in good hands."
Story by Audra Flanagan, 148th Fighter Wing, U.S. Air Force photo by Johnny Saldivar