148th Fighter Wing Conducts Medevac Training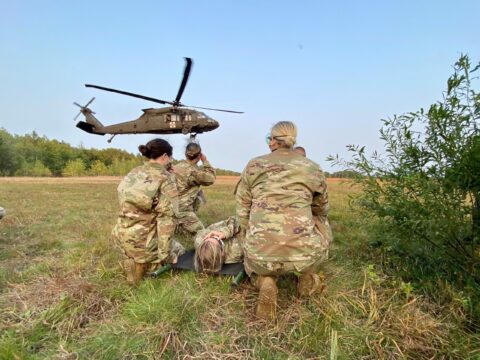 September 24, 2020 (CAMP RIPLEY, Minnesota) — Personnel from the Medical Group of the 148th Fighter Wing gathered at Camp Ripley Training Center, Minnesota to conduct field training, September 19-22, 2020.
Medical personnel learned about and exercised patient load training alongside Critical Care Flight Paramedics from the 2-211th General Support Aviation Battalion, a St. Cloud-based Minnesota Army National Guard medevac unit.
Personnel attended cold training, meaning they practiced triaging patients who were moulaged to show realistic injuries, completed 9-line medevac request cards and called in medical emergencies via UHF radio near a non-running UH-60 Black Hawk helicopter from the 2-211th General Aviation Support Battalion.
Medical Group personnel used MIST procedures to hand over casualties to Critical Care Flight Paramedics assigned to the 2-211th.  MIST is an acronym used by first responders when handing patients to the next level of emergency care.  The four parts of MIST are to identify the mechanism of injury, identify injuries found, identify signs and symptoms and communicate the treatment that was provided.
Next, medical personnel transitioned to hot training, where they called in medical emergencies via radio, utilized MIST procedures, loaded patients using litters onto UH-60 Black Hawk helicopters and boarded the helicopters safely for transport.
"Exercising wartime skills in a realistic training environment such as Camp Ripley is invaluable," said Critical Care Flight Paramedic, Staff Sgt. Sandra Barg from the 2-211 General Support Battalion. "Airmen are able to move safely underneath the rotor system and see our equipment as a medical unit" Barg added.
Master Sgt. Erica Olson, Health Service Administrative Technician with the 148th Medical Group utilized these processes during a deployment to Joint Base Balad, Iraq in 2007. "Training like this provide valuable familiarization and trust in the transport process," said Olson. "It also gives medics a feel for the patient's perspective," added Olson.
"Today's training provides perspective for the work that happens in the field," said 148th Medical Group Commander, Col. Jeffrey Rengel who deployed to the 455th Air Expeditionary Medical Group at Bagram Airfield in 2007 and 2009. "It's an effective reminder that our day to day patient care is vastly different than what we may see in a field hospital," added Rengel.
148th Medical Group personnel also accomplished classroom academics on basic life support, land navigation, patient movement, AFSC-specific training and periodic ancillary training while at Camp Ripley.
Story by Audra Flanagan, 148th Fighter Wing