148th Fighter Wing Flies in to Croatia for State Partnership Program Engagement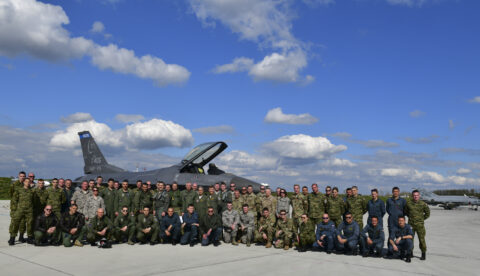 April 15, 2019 (ZAGREB, Croatia) — Acquiring new assets is an exciting time for any organization, this sentiment especially extends to the Croatian Air Force during their quest to purchase F-16s for their flying force. Recently, the Minnesota Air National Guard, through the State Partnership Program, was able to help enhance this excitement by letting the force get an up close and personal look at the aircraft.

Nearly 180 members of the 148th Fighter Wing were nearby in the Netherlands participating in the 2019 Frisian Flag exercise. During the first weekend in April, a small contingent headed for Zagreb International Airport, with the sole intention in creating an opportunity to have cross-talk with key leaders from the Croatian military, currently flying MiG 21.

During the event, aviators were able to show a large crowd of military spectators a great symbolic act of the two countries, connected to each other through the state partnership program. The Minnesota Air National Guard F-16 and Croatian military MiG-21 took off for a short four-ship flight.

"I am excited to be a part of this engagement and talk with the Croatian military about operations and maintenance related to the F-16," said a young Captain, 179th Fighter Squadron, "It was an honor to fly alongside them and their MiG-21 aircraft."

This was an historic event and another confirmation of friendship and strategic partnership between Croatia and the United States, said Croatian Defense Minister Damir Krstičević.

The mechanics and other logistical personnel were on hand to help answer any questions from Croatian Air Force personnel. Like a good neighbor helping the next door pal out, the gratitude was felt by all military members who were able to be a part of the weekend.

"Their endless hospitality and the whole experience is something I will not forget; I look forward to what the future will bring for Croatia and I would definitely want to be a part of more partnering events like this," said the young Captain.

The historic event, the flight of two MiG-21s and two Minnesota F-16s flying a four-ship, brought a number of spectators, including dozens of Croatian officer school candidates, local officials, and the United States Ambassador to Croatia, Ambassador W. Robert Kohorst. Kohorst got an up-close and personal look at the aircraft and was satisfied with the visit of the Minnesota National Guard, according to an official press release.

The partnership between Croatia and the Minnesota National Guard started in 1996 and the countries have conducted multiple engagements throughout the two decades. The program has focused on strengthening several key military capabilities including cyber defense and security and defense support to civil authorities.
Minnesota National Guard F-16s fly in Croatian airspace during the historic event of two Croatian Air Force MiG-21 and two Minnesota Air National Guard F-16's launch as a show of partnership through the National Guard State Partnership Program. The event was held through the National Guard State Partnership Program between Croatia and the Minnesota National Guard. The relationship was started in 1996 and the countries have conducted multiple engagements throughout the two decades. The program has focused on strengthening several key military capabilities including cyber defense and security and defense support to civil authorities. (Air National Guard Photo by Tech. Sgt. Lynette Hoke / Released)

A Minnesota National Guard F-16 flies near Zagreb International Airport during the historic event of two Croatian Air Force MiG-21 and two Minnesota Air National Guard F-16's as a show of partnership through the National Guard State Partnership Program. The event was held through the National Guard State Partnership Program between Croatia and the Minnesota National Guard. The relationship was started in 1996 and the countries have conducted multiple engagements throughout the two decades. The program has focused on strengthening several key military capabilities including cyber defense and security and defense support to civil authorities. (Air National Guard Photo by Tech. Sgt. Lynette Hoke / Released)

Airmen from the Duluth, Minn. based 148th Fighter Wing sits in a Croatian military MiG-21 and is working alongside members of the Croatian military for education and training on the F-16 Fighting Falcon in Zagreb, Croatia April 6, 2019. The event was held through the National Guard State Partnership Program between Croatia and the Minnesota National Guard. The relationship was started in 1996 and the countries have conducted multiple engagements throughout the two decades. The program has focused on strengthening several key military capabilities including cyber defense and security and defense support to civil authorities. (Air National Guard Photo by Tech. Sgt. Lynette Hoke / Released)

Two Minnesota Air National Guard F-16's and two Croatian military MiG-21s taxi-in Zagreb International airport on April 5, 2019. The event was held through the National Guard State Partnership Program between Croatia and the Minnesota National Guard. The relationship was started in 1996 and the countries have conducted multiple engagements throughout the two decades. The program has focused on strengthening several key military capabilities including cyber defense and security and defense support to civil authorities. (Air National Guard Photo by Tech. Sgt. Lynette Hoke / Released)

Two Minnesota Air National Guard F-16's and two Croatian military MiG-21s taxi-in after a flight above Zagreb International airport on April 5, 2019. The engagement was held through the National Guard State Partnership Program between Croatia and the Minnesota National Guard. The relationship was started in 1996 and the countries have conducted multiple engagements throughout the two decades. The program has focused on strengthening several key military capabilities including cyber defense and security and defense support to civil authorities. (Air National Guard Photo by Tech. Sgt. Lynette Hoke / Released)

Airmen from the Duluth, Minn. based 148th Fighter Wing work alongside members of the Croatian military for education and training on the F-16 Fighting Falcon in Zagreb, Croatia April 6, 2019. The event was held through the National Guard State Partnership Program between Croatia and the Minnesota National Guard. The relationship was started in 1996 and the countries have conducted multiple engagements throughout the two decades. The program has focused on strengthening several key military capabilities including cyber defense and security and defense support to civil authorities. (Air National Guard Photo by Tech. Sgt. Lynette Hoke / Released)

A few officer candidates of the Croatian military are able to get the first-hand experience of launching a Minnesota Air National Guard F-16 with members of the 148th Fighter Wing at Zagreb Airport on April 6, 2019. The event was held through the National Guard State Partnership Program between Croatia and the Minnesota National Guard. The relationship was started in 1996 and the countries have conducted multiple engagements throughout the two decades. The program has focused on strengthening several key military capabilities including cyber defense and security and defense support to civil authorities. (Air National Guard Photo by Tech. Sgt. Lynette Hoke / Released)
Story and photos by Tech Sgt. Lynette Hoke, 148th Fighter Wing