148th Fighter Wing hosts STEM program for Duluth-area students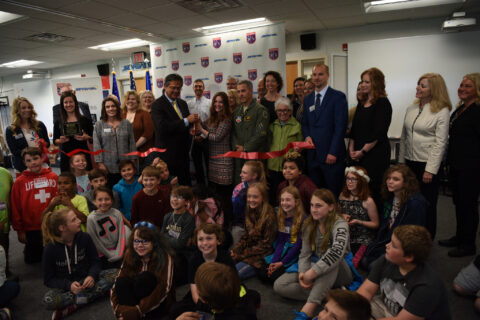 June 5, 2018 (DULUTH, Minnesota) –– Dozens of community and industry leaders passionate about helping children become more engaged in science, technology, engineering and math gathered at the 148th Fighter Wing in Duluth, Minn., May 24, 2018, to see what STARBASE Minnesota Duluth is doing for young students in the area.
STARBASE is a Department of Defense youth program that engages students in STEM studies. The program began in 1991, and STARBASE Minnesota was founded in 1993 in St. Paul, which expanded to Duluth in July 2017.
Currently, the school program is open to fifth-grade students, said Charity S. Rupp, the director of STARBASE Minnesota Duluth. The summer camp will serve students in 4-6th grade. Eventually, she hopes the program will expand into STARBASE 2.0 to serve middle school students as an after school program during the academic school year.
STARBASE is located at the 148th Fighter Wing.
"The 148th Fighter Wing has been an amazing supporter all the way from the wing commander to the individuals in this building that we share space with," said Rupp.
The base also employs individuals in STEM career fields that come and talk with the students, she said.
"It builds the future not just for the 148th Fighter Wing," said Col. Chris Blomquist, the 148th Fighter Wing commander. "But for all of the other tenants on the airfield and local aviation industry."
It also helps get the kids into colleges with a STEM concentration, said Blomquist. It's important to show them this field at this young age where they get to work with 3D printers, rockets and rovers, computer programming and real scientific equipment.
"The great thing is that they are getting very engaged on hands-on training," he said.
Story by Sgt. Sebastian Nemec
Minnesota National Guard