148th Fighter Wing pilot hits 4,000 Hour Milestone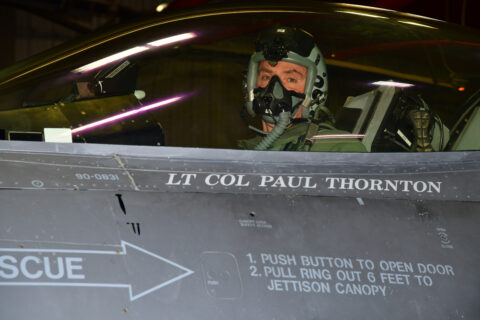 February 15, 2019 (DULUTH, Minnesota) — Col. Bradley Jackson, 148th Fighter Wing Operations Group Commander hit a milestone, Jan. 16, 2019. Jackson achieved what most pilots only dream of, he logged 4,000 hours in an F-16. According to F-16.net, only 51 pilots before him have accomplished this fete.
Jackson enlisted with the 148FW right after he graduated from high school and he was off to basic training that August. His first six years as an Airmen were spent in the enlisted ranks but he knew from an early age he was born to be pilot.
Since grade school his Dad would feed him books on flying. "I would read short combat stories of all the World War II aces and liked airplanes," said Jackson. "My Dad was a B-17 Crew Chief in World War II…he had all the old war stories."
In 1986, Jackson was encouraged by his supervisors to go before the board and was selected to become a pilot. In March, 1987 he went to pilot training school in Columbus, Miss. Instead of being overwhelmed and looking at all he had to accomplish to successfully complete pilot training he chose to take a different approach. "I focused on the next thing and did everything I could to be successful at that," Jackson said. "There is a lot of pressure when this is your life-long dream." His approached worked and he graduated top in his class.
Jackson's first flight at the 148FW was in 1988 in the F-4 Phantom. He would fly that aircraft until June 1990 when the wing converted to the F-16. His first flight in an F-16 was in back of a B-model at a conversion course in Wichita Falls, Kan.
In 1993, Jackson was hired as the Operations Officer and that would start his full-time career at the wing. He performed many jobs throughout his career to include Alert Detachment Operations Officer and Commander at Tyndall AFB, Fla.; Chief of Standards and Evaluations, Weapons and Tactics Officer, 179th Fighter Squadron Director of Operations, Operations Support Flight Commander and Maintenance Squadron Commander. He has commanded the 148FW's Operations Group since 2013.
Jackson remembers hitting the 3,000 hour mark in the F-16 during a flight in 2009, shortly after he returned from his third combat tour in Iraq. "That was a big one, you have been in the jet for a very long time and you are now in the minority that has 3,000 hours," Jackson said.
He really didn't think the 4,000 hour milestone was a real possibility until he hit 3,400 hours and had what he viewed as five to six years left before retirement. However, it was never about the milestone for him, it was about doing what the wing needed to be successful, doing what the team needed to be successful. "If you started to make the 4,000 hours a priority then it becomes a little too much about me and I wouldn't be dealing with some of things I should be dealing with as the Operations Group Commander," said Jackson.
"I should feel the same if I got 3,999 hours, it is just one of those things that people keep track of…one of those things that worked out for me personally that I can hang on the wall and be proud of," stated Jackson.
Many people along the way helped the Colonel achieve the milestone, which he was quick to point out, giving most the credit to the support teams, maintenance folks and mentors both past and present that make up the wing. "The airplanes that we fly are second to none, our Airmen tear them apart and make sure you have the most reliable equipment you could possibly have," Jackson said. "I am really proud of what we accomplished here at the wing, I could never have gotten to this point without that running in the background. It is about the team and the people…it is not about me."
Jackson will retire in March 2019 after 38 years of service to his country but he still has a few more sorties to fly before calling it a career. "The next five or so hours that I get in the jet will be very reflective and just enjoying every last minute knowing that it will not be happening anymore," Jackson said.
When it is all tallied up, Jackson will have been with the wing for over half of its existence.
His career embodies the Air Force core value of "service before self."