2-147th AHB Begins XCTC Training Exercise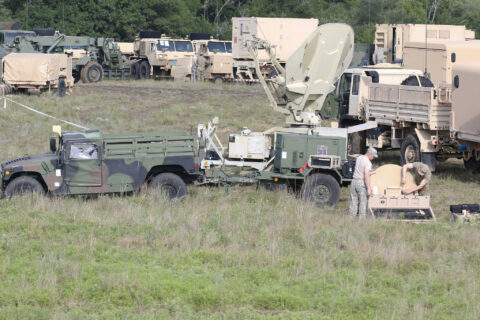 By 1st Lt. Katherine Zins
34th Combat Aviation Brigade Public Affairs
FORT HOOD, Texas (June 6, 2017) – The Minnesota National Guard's 2nd Battalion, 147th Assault Helicopter Battalion traveled to Fort Hood to provide aerial support to the 278th Regiment during an eXportable Combat Training Center (XCTC) training exercise. After arriving at Ft. Hood, the main body of 2-147 AHB was greeted by the advance party who had already begun preparations for the exercise. After thorough area orientation and briefings on rules of engagement and safety, the Soldiers readied their equipment for going into the field environment.
Alpha Company, the utility helicopter company for the battalion, made a two-day journey from St. Paul, Minn. to Ft. Hood, Texas, flying nine Black Hawk helicopters to support the XCTC training. They arrived late in the evening Sunday, June 4, with scheduled re-fueling every three hours and adjustments in flight times due to storm cells in the area. The 1,100-mile flight was not the longest flight for the experienced Alpha Company with previous training exercises in Fort Irwin, Calif., and Joint Base Lewis-McChord, Wash.
The 278th Armored Calvary Regiment is a National Guard unit based out of Knoxville, Tennessee. XCTC ispreparing the 278th and supporting units for a 2018 Rotation at the National Training Center. The training will consist of force-on-force combat lanes, while alternating through live-fire exercises into an impact zone. Completing these training exercises are pre-qualifications to attending the NTC Rotation. The 2-147 AHB will provide mission support with sling load operations, aerial reconniassance, and troop transportation to train land and air capabilities as a unified force.
The St. Paul, Minnesota-based 2nd Battalion, 147th Assault Helicopter (2-147 AHB) is an Army National Guard utility helicopter battalion that supports the 34th Infantry Division and the State of Minnesota by providing air lift, scouting, mobility, and support of civil authorities. The aviators of the 2-147 AHB fly the UH-60 Black Hawk helicopter.