2023 legislative wins for Minnesota National Guard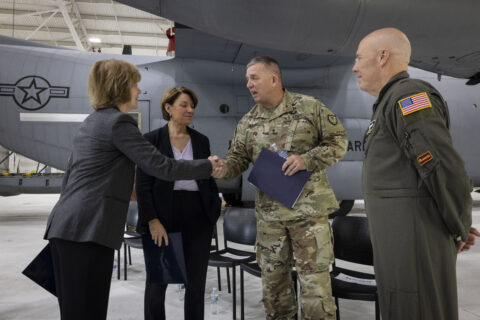 The 2023 state and federal legislative sessions can be described as a big win for the Minnesota Department of Military Affairs and the Minnesota National Guard.
The capital resulting from the sessions will fund a variety of projects to improve facilities, readiness, and equipment.
According to the Department of Military Affairs Executive Director, Don Kerr, "the Legislature really came through for the department and the National Guard in the 2023 session with investments in programs, incentives, and infrastructure that will really make a difference in maintaining the readiness and capabilities of the Minnesota National Guard."
One of the projects is a $17.6 million Army Combat Fitness Testing (ACFT) fieldhouse in Arden Hills. The concept calls for a 40,000 square foot building for offices, studios, weights, cardio, and turf areas in Arden Hills.
The Department of Military Affairs requested and received an annual general fund increase to create a long-term full-time manning solution to staff cyber specific initiatives across the Minnesota National Guard. The Cyber Coordination Cell will routinely work in tandem with other state and federal agencies to coordinate federal, state, and local resources in the cyber domain.
This new initiative will create full-time cyber program management positions to staff cyber specific initiatives across the Minnesota National Guard. The program would include cyber program director, cyber program development, and cyber planner positions.
The establishment of a Holistic Health and Fitness, or H2F, team designed to enhance readiness through education across five domains: mental, sleep, nutritional, physical, and spiritual health was also secured during this legislative session.
This funding will provide numerous staff to support H2F, including a program director, a program developer, a course manager, a physical therapist, and a nutritionist.
H2F would focus on preventing injuries and fitness failures, preparing Guard members for missions, and educating Guard members on positive self-sustaining cultural change. Moreover, it will support the Adjutant General's "People" priority and the Governor's "Public Safety" strategic priority category.
The Minnesota National Guard has become a go-to agency for assisting the state in times of distress. Additional funding to invest in new communications equipment to support domestic operations with interagency partners was requested and approved by the Minnesota Legislature.
The equipment purchased with these funds will replace existing equipment with updated communication equipment that better allows the Minnesota National Guard to respond to emergencies in Minnesota. It will ensure interoperability with emergency responders, including police, fire, and EMS.
A substantial bonding investment to renovate the Rosemount, Moorhead, Marshall, and Fergus Falls readiness centers was also approved. Some of the projects have already been completed. For the others, the organization is focusing on interior and exterior improvements, including energy efficient Heating, Ventilation, Air Conditioning, plumbing, and other utilities.
Our entire federal Congressional Delegation (CODEL) continues to strongly support the Minnesota National Guard and our priorities. The newest CODEL member, Rep. Brad Finstad (MN District 1), was selected for the House Armed Services Committee and is the first MN member to be on either the Senate or House Service Committees in over four years. Rep. Betty McCollum (MN District 4) continues as the Ranking Member of the House Appropriations Committee on Defense. Between Gov Walz and our ten CODEL members, they signed unanimous letters of support, made phone calls to senior officials, and engaged with key decision-makers to promote recapitalizing to C-130J aircraft at the 133rd Airlift Wing.
On Sept. 14, it was announced that the Minnesota National Guard's 133rd Airlift Wing, located at Minneapolis/St. Paul International Airport was selected to receive eight, new C-130J Super Hercules aircraft as part of the Air National Guard's C-130J Recapitalization and Basing program.
The new C-130J aircraft will provide the Minnesota Air National Guard with greater capability in supporting the state and nation around the world. The C-130J offers many advantages, including the latest avionics, longer expected life span, better fuel efficiency and performance, increased cargo capacity, and better logistical support.
"This is a monumental step forward for Minnesota and the Minnesota National Guard," said Maj. Gen. Shawn Manke, Minnesota National Guard's Adjutant General. "This important announcement will modernize the 133rd Airlift Wing ensuring our Air Guard service members remain at the forefront of the future fight."
Story by Mr. Bob Brown
Minnesota National Guard Public Affairs