3,000 Minnesota Soldiers wrap up large-scale military exercise in the Mojave Desert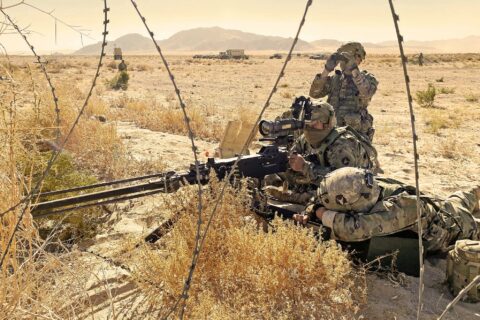 August 4, 2020 (FORT IRWIN, California) – About 3,000 Minnesota Soldiers are packing rucksacks and duffle bags, as they prepare to make their way back to the land of 10,000 lakes.
The Soldiers from the Minnesota National Guard's 1st Armored Brigade Combat Team, 34th Red Bull Infantry Division, just wrapped up a large-scale combat exercise at the National Training Center in Fort Irwin, California. The training, which required eight battalions to conduct decisive-action operations as one collective task force, was the first of its kind since the U.S. Army finalized plans to methodically resume exercises for large formations, amid the novel coronavirus pandemic.
Soldiers attending the NTC rotation underwent a deliberate process to prevent the spread of the coronavirus, including screening and testing in their home state prior to departure. Dozens of additional mitigation measures, like the use of masks, isolating the training unit from the general population and monitoring for symptoms, took place upon arriving and throughout the training at Fort Irwin.
NTC is the only U.S. Army training facility that allows a full brigade combat team to conduct force-on-force maneuver, live-fire attack and live-fire defense — integrating all mission command systems and warfighting functions to include coordination with the U.S. Air Force, Navy and Marines.
"Training at this level is paramount to our readiness as an organization," said Col. Timothy Kemp, commander of the 1/34th ABCT. "Over the last few weeks, I saw the grit and tenacity that Red Bull warriors are known for. I'm grateful for their commitment leading up to and during this NTC rotation, which has allowed us to increase our proficiency and skillset and develop as leaders and individuals."
Immediately upon arrival at NTC, Minnesota Guardsmen began working to transition personnel and equipment into operationally viable forces. This process is referred to as reception, staging, onward movement, and integration (RSOI) and conducting the process safely and efficiently is critical in a contested or hostile environment.
Moving straight into "the fight" required Soldiers to rapidly offload equipment and vehicles shipped to Fort Irwin by train. It took approximately 430 rail cars, across four trains, to move more than 2,000 pieces of unit equipment, including dozens of M2 Bradley Fighting Vehicles, M1 Abrams tanks, trucks and more.
After RSOI, the brigade moved from cantonment on Fort Irwin, which is located about an hour's drive northeast of Barstow, California, to a more austere location. Notorious for providing tough, realistic training, exercises at NTC simulate combat in the harsh environment of California's rugged, high-mountain Mojave Desert.
From a variety of remote locations in Fort Irwin's desert training area (known as "the box" and nearly the size of Rhode Island), Minnesota's storied brigade combat team had the ability to fully deploy all of its armor assets against an opposition force made up of active-duty Soldiers from the 11th Armored Cavalry Regiment.
The large-scale, force-on-force training provided a unique test for Red Bull warfighters and allowed teams — from infantry squads at the company level to staff at the brigade headquarters — to test their capabilities and preparedness.
"Our warriors worked diligently at all levels, sharpening warfighting skills from maneuver and small-arms fire to planning and mission command," Kemp said.
Successful military operations require communication and coordination between all echelons and among adjacent units. As battalion Soldiers demonstrated their maneuver and warfighting acumen by attacking and removing enemy combatants from the large mock-city of Razish, brigade planners were busy coordinating with staff in the unit's tactical operations center to determine the Red Bulls' next course of action on the battlefield.
During the fight, Kemp communicated with his staff and subordinate battalion commanders from a Bradley, part of a mobile command group that allowed him to monitor and move about the battlefield. He was pleased with what he saw.
"As I roamed the battlefield, working with Soldiers, I saw a continuous attack and aggression. I saw our Soldiers working together, consolidating, reorganizing and taking the fight to the enemy," Kemp said.
After offensive and defensive operations, the 11th ACR cleared the battlefield, allowing Red Bull Soldiers to conduct live-fire training before moving back to cantonment, where leaders gathered to evaluate the unit's performance, identify room for improvement and begin developing future training plans.
The 1/34th ABCT's rotation at NTC, directed by U.S. Army Forces Command, serves as the final, major training event ahead of the unit's 2021 deployment to the Middle East.
"Based on all that they have done and continue to accomplish, it's clear to me that our Soldiers and leaders are ready to meet tomorrow's challenges and opportunities," Kemp said. "I'm incredibly proud of our Minnesota Red Bulls."
Story by 1st Lt. Eric Jungels