347 Regional Support Group provides base operations support in Iraq
AL ASAD AIR BASE, IRAQ – In May of this year, 21 Minnesota Army National Guard Soldiers assigned to the 347 Regional Support Group, Task Force Victory, arrived at Al Asad Air Base to provide Base Operating Support-Integrating services to those stationed here in support of Combined Joint Task Force-Operation Inherent Resolve.
Much like a city, military bases serve as a place of work and residence for U.S. military personnel, coalition forces and contractors.
A group of various specialty occupations that help to mirror the functions of a typical city government entity, the BOS-I helps to ensure the short- and long-term success of AAAB. Maj. Johnny Villarreal, the director for the BOS-I here, compared the entity to a city hall in the United States.
"BOS-I is similar to a city hall stateside," he said. "It has police, fire, public works, information technology and logistics falling under a city administrator (BOS-I director), who works with a mayor."
The team includes personnel working in fields ranging from signal operations, information technology, wheeled vehicle mechanics, engineering, logistics, military police, administration, food safety and more. Additionally, BOS-I oversees billeting on post, the management of a large fleet of non-tactical vehicles, the movement of equipment and personnel on and off base and more. They also provide engineer oversight for base construction projects.
Base operations is a multi-faceted project, and the BOS-I has a wide-reaching impact, Villarreal said.
"The BOS-I mission impacts every person and piece of equipment arriving and leaving AAAB," he said.
When it comes to moving people and equipment in and out of AAAB, Master Sgt. Lee Christopherson, the BOS-I logistics and mobility noncommissioned officer in charge, knows all about getting people and equipment moved.
Efficiently moving personnel, requires maintaining good working relationships with flight managers and the airport terminal team, he said.
"In order to effectively manage flights, I work with the Combined Joint Task Force Joint Operating Planning and Execution System managers to adjust flights as needed," he said. "And I maintain a good working relationship with the airport terminal to make sure passengers make it to and from where they need to go."
In the realm of moving equipment, Christopherson processes both ground and air movements for items like new generators, retrograde excess materials and some supplies that are not 'readily available' to the Eastern Syria Security Area.
Additionally, he serves as the spot power generation manager, tracking over 80 generators in support of base tenants. When it comes to getting power, base personnel look to Christopherson for help.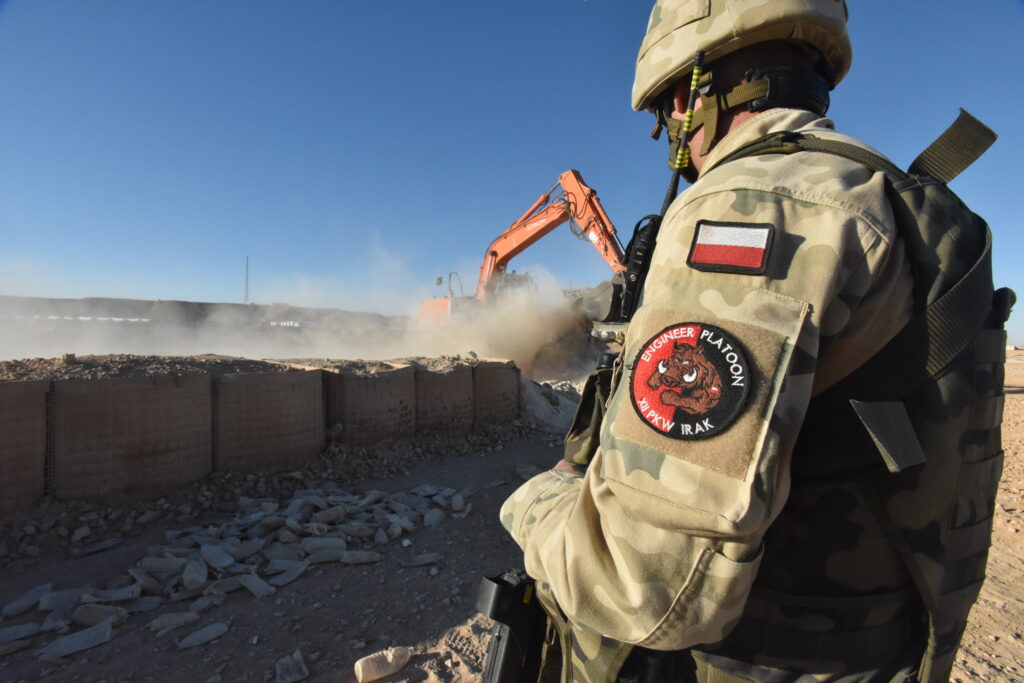 "Most elements come to the BOS-I for power generation issues, and I assist in resolving them," he said.
With more than just U.S. forces living and working at the base, BOS-I is responsible for the facilitation of a variety of projects and services with the help of coalition partners, Villarreal said.
"BOS-I works with coalition partners on certain construction projects," he said. "The Polish engineer platoon takes direction from the BOS-I engineer, providing horizontal engineering support to AAAB."
In support of Operation Inherent Resolves mission campaign of advising, assisting, and enabling Iraqi Security Forces, who share a portion of AAAB with coalition partners, the BOS-I coordinates Polish engineering support in the Amber Zone of AAAB.
"The BOS-I provides engineer support to the Iraq Security Forces on the Amber Zone of AAAB, by demolishing broken HESCO barriers and moving T-Walls," Villarreal said.
The team also participates in periodic engagements with the AAAB Iraqi base commander, Iraqi Air Force Staff Maj. Gen. Abbas Fadel Damer. These engagements, Villarreal said, entail coordination of base support and contracting efforts. Currently, the BOS-I is assisting with coordinating an educational opportunity for local vendors who are interested in learning the process of conducting business with the United States government, supporting the interests of the Iraqi base com Villareal said.
"Staff Maj. Gen. Abbas has an interest in utilizing local vendors to support the Anbar region, he said. "So, BOS-I works with the 408th Contracting Command and Logistics Civil Augmentation Program to give local vendors an opportunity to bid on contracts and services."
The 347 RSG is projected to continue its mission here, before transferring authority to an incoming element in early 2023.
Staff Sgt. Sirrina Martinez
Minnesota National Guard Public Affairs