347th RSG contractors enhance training, quality of life for Minnesota Guardsmen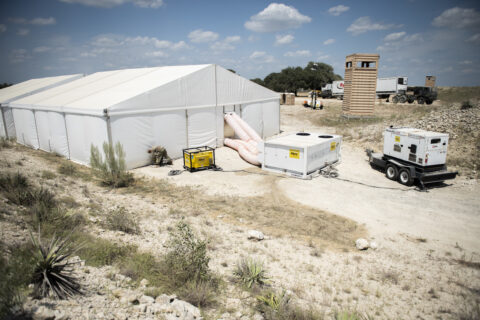 August 2, 2019 (FORT HOOD, Texas) — U.S. Army units have vast spaces to work with for training events. For the Minnesota National Guard, those spaces include Fort Hood, Texas; Fort Irwin, California; and even Camp Ripley Training Center, Minnesota.
These training spaces are all ideal for brigade combat teams conducting tactical maneuvers involving thousands of Soldiers and hundreds of pieces of equipment, from tanks to generators. Getting to those spaces is one thing – requiring rail, line haul and/or convoy operations, not to mention dozens of flights – but what about lights? Generators? The means to conduct fuel delivery? Sleeping quarters? How about a shower? Maybe some fresh fruit? What about Latrines!?
Enter, the acquisition team.
"Through contracting, we can procure just about anything the units we support need," said Maj. Luke Thomsen, 347th Regional Support Group contracting officer. "With a lot of advance planning, we can order and place equipment where it's needed and coordinate maintenance like fuel and swapping air filters to keep that equipment running."
This time around the 347th RSG is supporting the 1st Armored Brigade Combat Team, 34th Infantry Division, in Fort Hood, Texas. And that means keeping the lights on during 24-hour operations in a desert while off the power grid. That means running generators 24-hours a day to keep tactical operations centers cool, and sleeping quarters comfortable. All of this is done on federal contracts administered by the two-person team that includes Thomsen and Sgt. 1st Class Jon Larson, brigade contracting non-commissioned officer.
"Everything is planning," Larson said. "If we can think through what the units are going to need for power, fuel, hygiene, and coordinate with their own sustainment teams, we can provide the life support while they conduct the training."
The 347th RSG is currently overseeing 5 generators, 50 light sets, 300 latrines, 1 commercial fueling truck (equipped with two tanks, which hold different types of fuel for different types of equipment), and on Aug. 8 a shower tent – which will be a welcome site for the the personnel on the ground who have yet had access to this luxury.
"4,000 people make a mountain of waste, and they need a mountain of food," Thomsen said, noting that his team provides meal enhancements in the form of fresh fruits and vegetables to round-out a healthy diet. "It's about providing good customer service, because providing something like reliable, clean latrine service is a huge morale boost."
During the planning process, Thomsen said his team was able to write the contract to pre-positioning latrines for where the units would be, as opposed to moving them ad hoc – which resulted in savings of nearly $20,000.
"It's the kind of support that these units need, and we're taking pride in delivering world-class service," Thomsen said. "We do everything we can to make sure when 1st brigade asks for something, we respond with a 'yes, we can do that.'"
Training this time around will prepare all of the units for the real test, a National Training Center rotation in Fort Irwin next summer.
Story and photos by Sgt. 1st Class Patrick Loch