34th Expeditionary Combat Aviation Brigade
Unit Information
The St. Paul-based 34th Expeditionary Combat Aviation Brigade is an Army National Guard unit that supports the 34th Infantry Division and the state of Minnesota by providing aviation capabilities - both UH-60 Black Hawk and CH-47 Chinook helicopters - for federal and state missions.
2022 Objectives
The next year will see the ECAB prepare for Bravo Company 1-171 return home from its deployment and prepare for a platoon from Charlie Company from the 2-211 medical evacuation unit for a rotation at the National Training Center in the summer of 2022.
2021 Accomplishments
The 34th Expeditionary Combat Aviation Brigade (ECAB) had a quieter 2021 after returning home from their deployment supporting Operation Inherent Resolve and Operation Spartan Shield in the Middle East in October 2020. Although the brigade had planned on a slower year operationally, it still managed to support multiple missions on the state and federal level. It supported Operation Safety Net, the Washington state fire support mission, and the northern Minnesota wildfires.
The Minnesota wildfires took place in Warroad and Duluth, Minnesota. The ECAB provided four aircraft and 15 personnel to help suppress the wild fires. Altogether, they dropped 377 buckets of water totally almost 200,000 gallons of water.
While many Red Devils were adjusting back to life in Minnesota, the St. Cloud based Bravo Company of the 1-171st General Support Aviation Battalion deployed to the Middle East in support of Operation Spartan Shield and Operation Inherent Resolve. The unit flies CH-47 Chinook heavy lift helicopters and sent about 60 soldiers total on the deployment.
On top of reintegrating after deployment and the state and federal missions, the ECAB had an extremely successful Aviation Resource Management Survey (ARMS) inspection. Part of modernizing the aviation units, the brigade used the new Army Aviation 1 Standard Operating Procedure. This SOP was created for all aviation brigades to use in order to create symmetry. A collaborative approach led the ECAB to one of its most successful ARMS inspections ever.
The ECAB welcomed new commander Col. Kevin O'Brien as the new brigade commander and thanked Col. Gregory Fix for his service as the outgoing commander during the change of command ceremony at Camp Ripley in June of this year. Col. O'Brien is still flanked by Command Sgt. Maj. Mitchell Hellkamp.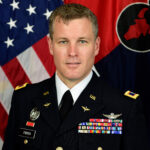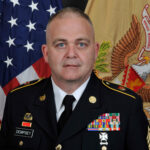 34th Expeditionary Combat Aviation Brigade
Headquarters and Headquarters Company
B Company, 2nd General Support Aviation Battalion, 211th Aviation Regiment
C Company, 2nd General Support Aviation Battalion, 211th Aviation Regiment
Detachment 39 Operational Support Airlift Command