Maintenance company activates, expands services offered by the 347th Regional Support Group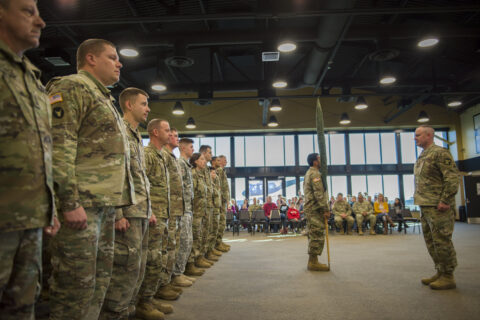 Story and photos by Sgt. 1st Class Patrick Loch
CAMP RIPLEY, Minn. — The 347th Regional Support Group formally welcomed more than 100 Soldiers into the brigade after an activation ceremony for the newly-formed 434th Support Maintenance Company.
The formal initiation into the brigade was more than a year in the making, undertaken by a small corps of professionals from around the Minnesota National Guard who first came together to identify the occupational specialties needed to form a support maintenance company – and then recruiting the best qualified personnel to fill those roles.
"I know this company will do great things because it's full of honest, hard-working Soldiers." said Capt. Theodore Huebner, shortly after assuming command of the 434th SMC.
After considerable time spent filling Soldier vacancies and then ensuring those individuals had the proper military education, the unit already finds itself in-demand.
"We're already looking at adjusting our annual training dates for next year to potentially support a major training exercise," said Sgt. 1st Class Brandon Johnson, 434th SMC readiness non-commissioned officer. "This would position us to be prepared for an influx of vehicles and equipment returning from that exercise."
When major training exercises are planned for and executed, vehicles and equipment will oftentimes travel by rail, freight and convoy and then used in a combat-simulated environment before returning back to Minnesota. The intense operation involving thousands of vehicles and pieces of equipment will necessitate varying degrees of maintenance.
"We're an asset to support brigade elements," Johnson said. "Our mission is to maintain operational readiness for the Minnesota National Guard."
The skillset of the Soldiers comprising the unit include members with 20-plus years working in maintenance facilities around the state to those newly-qualified individuals specialized in welding, small-arms repair and calibration, to name a few.
The company is a welcome addition to the 347th Regional Support Group, adding another layer of support the brigade provides for contingency operations to include life support for base operations in addition to administrative, medical and logistical support.
For more photos, visit https://www.flickr.com/photos/minnesotanationalguard/albums/72157696846235600.