46th U.S. – Norway Reciprocal Troop Exchange to come to Camp Ripley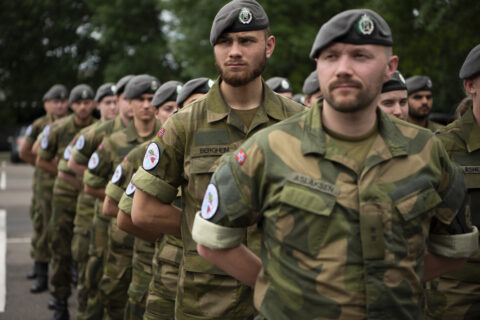 FOR IMMEDIATE RELEASE February 5, 2019 (CAMP RIPLEY, Minnesota) — The Minnesota National Guard will host over 100 members of the Norwegian Home Guard as part of a reciprocal troop exchange at Camp Ripley, Feb. 8-22, 2019.
The exchange, in its 46th consecutive year, reinforces the positive working relationships between allied services and highlights the strong lineage many Minnesotans share with the Scandinavian culture.
The origin of the exchange began with a handshake between two veterans of the Second World War – Norwegian Major General Herluf Nygaard and Chief of National Guard, Major General Francis S. Greenlief, agreeing that a troop exchange would strengthen the bond between their two allied countries. This program which began in 1974 was the initiation of the longest allied exchange, of its kind to date, in the Department of Defense.
"Each year approximately 100 Soldiers and Airmen from the Minnesota National Guard and a like number of Norwegian Home Guard Soldiers as well as youth trade places to experience each other's training, military lifestyle and most importantly, culture," said CW2 Shane Haugen, Director of Camp Ripley's Joint Visitors Bureau.
2019 marks the 46th anniversary of this Partners for Peace exchange program which has had over 9,000 Soldiers, Airmen and Home Guard personnel participate. Through the middle of February the exchange, at Camp Ripley, will introduce the Norwegian Soldiers to cooperative training experiences with American military and inter-agency partners focusing on domestic operations with law enforcement and homeland security. The exchange will introduce the Norwegian contingent to American cultural events throughout Minnesota.
The benefits to this program have been reflected in duty locations around the world as American and Norwegian Service-member recognize the techniques and procedures used by each other forces and are able to relate the commonality and friendships made during the Reciprocal Troop Exchange.
Media are welcome and should contact the Camp Ripley Public Affairs Office at 320-616-3122 or 320-616-2716 if interested in covering the exchange.