A bond and journey formed from competitive shooting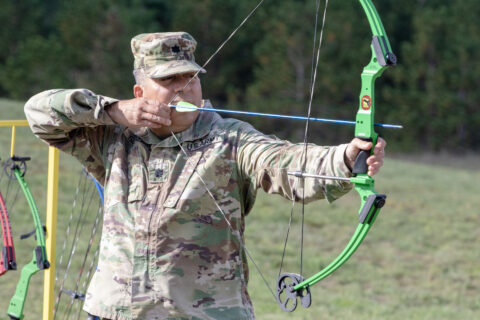 Oct. 14, 2021 (ST. PAUL, Minn.) – Competitive shooting brought him to the U.S. Army, but his mom brought him to the sport of shooting.
Army Lt. Col. Eduardo A. Suárez grew up in San Jose, California., with his parents and four siblings. He said his childhood was filled with Hispanic traditions of gathering around food, family, and the church.
He was introduced to shooting when his mother, Beatríz, thought he was falling in with the wrong group of kids in high school.
"I was a little skate punk dude with long hair," said Suárez. "And mom couldn't stand it."
So she asked her husband, his father, Albert, to take him to the shooting range when he was 16 years old. Albert had stopped shooting when they began to raise a family, and now his own passion was reignited.
"We spent a lot of time together," said Suárez. "I got to know my father on a new level: father, teacher, coach, and mentor."
Suárez fell in love with shooting sports quickly, and he was good at it. He won his first international competition in Mexico City while he was still a junior in high school.
He was asked to become a resident athlete at the U.S. Olympic Training Center in Colorado Springs, Colorado. He trained there for more than three years and made the U.S. Olympic team in 1988 as an alternate.
While at the center, Suárez trained with shooters that competed for the U.S. Armed Forces. They encouraged him to join the military as a way to pursue his Olympic aspirations, serve his country, and make a living at the same time.
"Shooting changed my life forever," said Suárez. "It put me on the course to go into the military. And at the time, it was for one reason only, and that was that I just wanted to keep shooting, keep competing. I hadn't accomplished all of my goals yet. And 32 years later, I'm still wearing the uniform."
Suárez enlisted as an infantryman into the U.S. Army as an active duty Soldier in 1988 and joined the U.S. Army Marksmanship Unit at Fort Benning, Georgia.
While on a trip to the U.S. Olympic Festival in Minneapolis, Minnesota, he happened upon the University of Minnesota, School of Architecture, an area of study that interested him. His wife, Jen, was from Iowa, so they decided to move to Minnesota after his contract ended in 1993 so he could pursue architecture, and she could pursue dental hygiene.
Suárez joined the Minnesota National Guard and completed ROTC from the University of Minnesota.
He has accomplished a lot in his military career, he said. His father served as an active duty Airman in Alaska, where his father started shooting.
Shooting became something that bonded Suárez and his father.
"For dad, watching me compete and watching me excel in the shooting sports, I think gave him greater satisfaction than my military accolades," said Suárez. "He taught me a lot. Not just the fundamentals of shooting or how to excel at a high level. He taught me the importance of reaching your potential."
A specific photograph and moment stand out to Suárez.
"There's a picture of him and me on the firing line. I'm leaning back over the fence that separates the spectators from the athletes, and dad and I are looking at each other. I'm leaning over the handrail. I'm looking at him, and he's looking at me. And it's one of the best moments I remember, where I feel like my father felt like he did his part. Like, 'okay, the rest is up to you.'"
His upbringing and his time as a competitive shooter have impacted his career in the military, said Suárez.
"When I was competing, everything was competitive," he said. "Competitiveness has now become an internal thing and more about outperforming myself."
As the director of diversity and inclusion for the Minnesota National Guard, he's had the opportunity to hear the personal stories and struggles of Soldiers and Airmen, he said. Then he gets to watch them get better and take on their next challenge.
"In competitive shooting, the bar was an Olympic gold," he said. "It couldn't get any higher than that. And I feel like the military has been the same thing for me. If there is a bar, it's pretty high up there. I think if you set a bar, whether you believe in the bar or not, you need to set it pretty high because along the journey getting there, you're going to accomplish a lot more."
Story by Sgt. Sebastian Nemec, Minnesota National Guard Public Affairs