A Century Ago: 1918 Flu Took Red Bulls Before the Fight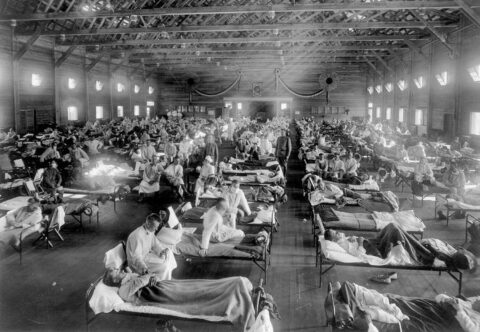 May 21, 2020 (ST. PAUL, Minnesota) — As the world battles the impact of the COVID-19 virus, a century ago a different pandemic spread globally, impacting Minnesota Soldiers who were preparing to go to war.
Some say it started in Kansas. Infected farm boys became soldiers. The virus easily spread in the close quarters of Fort Riley. The sickness "mutated along the way as men coughed and sneezed, spreading germs in Army barracks, then on trains across the nation and on ships to Europe. Within six to nine months, the 1918 influenza pandemic had killed at least 20 million people worldwide. Some reports said 40 million."[1]
The new 34th Infantry Division shipped out from Camp Cody, New Mexico, to Camp Dix, New Jersey, early in the epidemic. At Cody they lost many fewer soldiers than many other training camps. The death toll did not mount dramatically until Camp Dix. More than a thousand Cody soldiers died at Dix.[2]
Red Bulls died every day from respiratory diseases caused by the infection that would later be known as the Spanish Flu. The epidemic had impacted the Army to such a degree that rumors abounded that the flu was started by German spies.
The 136th Infantry Regiment alone lost 49 soldiers in one week. Most of these boys had joined the Army just a few months before. They would not serve in France with their Red Bull comrades in the 125th Field Artillery, 135th Infantry, 136th Infantry, 151st Field Artillery, and 168th Infantry. For many Bearcats, their obituaries are all we have to remember their service.
Pvt. Ira T. Worley, 136th headquarters, was born 1892 at Forbes, Mo. He lived there for several years, then moved to Fleming, Colo., where on May 27th, he received his call and reported to Camp Cody, N.M. to do his part in this great struggle for democracy. Joined company August 15 and died September 20, 1918, at the Base Hospital, Camp Dix, N.J. An early victim of the epidemic, which has been rife in camp, he was a signal man of Headquarters Company, one of the best liked men in his platoon because of his cheerful spirit and ready smile. His loss was felt by everyone who knew him. He was survived by a wife, Mrs. Hazel Worley and father J.D. Worley to whom we, Headquarters Company of the 136th Infantry, extend our deepest sympathy.
Pvt. Nute Molinero, age 31, Machine Gun Company. Born in Italy. He was accepted for enlistment in Gila County, Arizona, May 27th, of this year. Joined MGC June 22, 1918. Died three months later of pneumonia caused by influenza at the Camp Dix Base Hospital. He had a wonderful physique and was a leader in boxing and wrestling and easily held the record of the company as a horseman. He had the true Western spirit and was a favorite in the company. His absence on the battlefield will surely be felt, for whatever he undertook was sure to be a success. The mother has the sympathy of the regiment in her days of sorrow. The remains of Private Molinero were shipped to Globe, Ariz. He was survived by his parents Mr. and Mrs. Antone Molinero and his sister Josephine Carson.
Pvt. Clarence F. Williams, Machine Gun Company. Born November 28, 1893, at Kellyville, Tex. Died at Camp Dix September 25, 1918 at the Base Hospital from bronchio-pneumonia, as a result of Spanish Influenza. Father, W. F. Williams, Hughes Springs, Tex. He was accepted for enlistment in M.G. Co. at Cass County, Texas, May 25, 1918, and was a faithful soldier to the time of his sudden death. He was well liked by his fellow soldiers and was known to his fellows by the popular nickname of "Preacher." He was always a willing worker and his absence will be felt by both officers and men. The family has the sympathy of the mem and officers in their bereavement. The remains were shipped to his home at Hughes Springs, Texas.
Sgt. Guy Bruce was a fine young man. He "was born in Cleveland Township, Le Sueur County, April 27, 1894, and was in his 24th year. He was the only son of Mr. and Mrs. Sidney Bruce, who, with a sister, Mae, survive him. The young man spent his boyhood days in Elysian, where the family has resided for a number of years, and enjoyed a wide acquaintance in this section. When war was declared he was employed in the Morristown mill and was among the early volunteers, enlisting in the Machine Gun Company of the Second Regiment, Minnesota National Guard, at Faribault and accompanied them to Camp Cody, where they were in training for nearly a year. A month ago they left for Camp Dix, and while awaiting orders to embark for overseas duty, having received full equipment, Guy was a victim of the illness which cost him his life. His progress in military life is creditable as he had attained the rank of sergeant of his company in the 136th Infantry. It is a consolation to the family to know that the young man died in the service of his country. He would have made a good record for himself had he been spared to make the trip to France with his regiment to uphold the cause of right over might."
See more of our Honored Fallen of WW1.
Tanner, Beccy. "How a killer flu spread from western Kansas to the world." Wichita Eagle. February, 2018.
"Influenza takes 1000 Men at Camp Dix; Were at Cody." Trench and Camp. Nov. 28, 1918.
"Our Honored Fallen- WW1." FindAGrave. Accessed May 19, 2020. https://www.findagrave.com/virtual-cemetery/1212433.
Story by Master Sgt. Daniel Ewer, Minnesota National Guard Public Affairs, Command Historian