A Chaplain's Journey of Personal Growth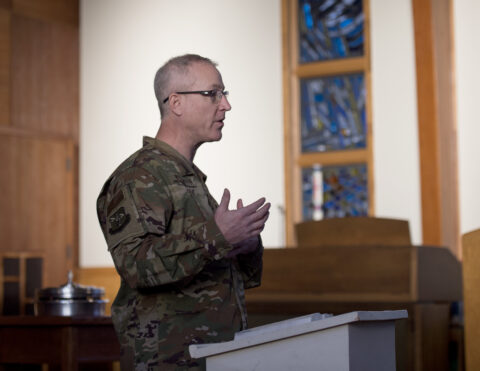 Jan. 3, 2019 (ST. PAUL, Minnesota) — Leadership can occur at different levels and at different ranks within an organization. Leaders inspire, guide and influence those around them. Chaplain (Capt.) Keith Beckwith, 133rd Chaplain Corps, is committed to leaving his organization better than he found it by developing the next generation of Airmen.
Beckwith started his military career when he enlisted in the U.S. Army as an avionics mechanic right after high school. Between active duty and later as a member of the Minnesota Army National Guard, his career sent him to Germany, Desert Storm, a humanitarian mission to Guatemala and most recently to Kyrgyzstan. During his collective 30 years in the United States Army, the Minnesota Army National Guard and his current assignment in the Minnesota Air National Guard, he has been afforded a plethora of opportunities to be developed as a leader and to assist in developing others.
Beckwith developed his leadership capabilities primarily through mentoring others. He firmly believes effective mentorship is important to a person's growth and as a leader. 
"Throughout my career I have had many mentors here on base and outside of my career field," said Beckwith. "The reason for this is so that I may gain an outside perspective on problems and solutions, direct guidance and support and connect with other people, not just in my career field. I really believe this broadens me as a leader."
To be successful, Beckwith seeks out opportunities to grow professionally which engenders a level of passion that he gives back to his peers.
"I took advantage of the leadership development course, at the 133rd Airlift Wing, that focused on 360 degree feedback," said Beckwith. "It is a powerful tool because it's a resource that is given to peers, superiors and subordinates. You are rated on a number of categories, such as professionalism, character, leadership, self-awareness and other categories. This is a beneficial tool to see where you are personally, and where others rate you."
That passion is noted by others who see his hard work and determination and admire the way he mentors others.
"Chaplain Beckwith really embraces leadership and spiritual development and works hard at it," said Chaplain (Lt. Col.) Daniel Pulju, 133rd Chaplain Corps. Pulju noted that Beckwith is always looking for ways to develop others.
Beckwith saw each of the opportunities as an important tool for personal and professional development. Being committed to leaving a place better than he finds it has made him the best leader that he can be, first as a non-commissioned officer and now as an officer.
"He is not done yet," said Pulju. "As long as he continues to be engaged and working hard at it, he will be successful."
Story and photos by Tech. Sgt. Amy Lovgren, 133rd Airlift Wing