A first of its kind, Adriatic Thunder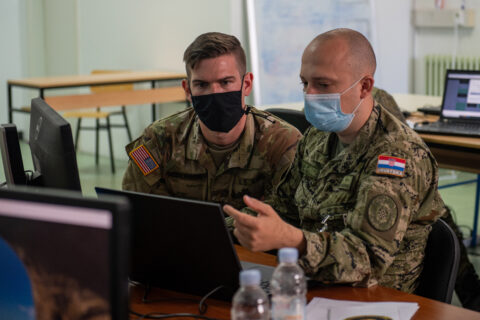 June 16, 2021 (ZAGREB, Croatia) — Soldiers and Airmen from the Minnesota National Guard and Iowa National Guard came together to conduct the Midwest Croatia Kosovo Exercise Adriatic Thunder with the Kosovo Security Forces and Croatian Armed Forces in Zagreb, Croatia, to show their ability to work across nations on critical mission systems, June 5-19, 2021.
"We're partnering; showing our ability to work with one another; work across nations; work across joint environments. We're doing it in an actual hands-on fashion where you really see ones and zeroes in the defensive critical mission systems," said U.S. Air Force Lt. Col. Lawrence Yazzie, commander of the 168th Cyber Operations Squadron, Iowa Air National Guard.
Soldiers and Airmen from the 177th Cyber Protection Team and the Minnesota National Guard Joint Force Headquarters Defensive Cyber Operations Element participated in the exercise. Minnesota is partnered with Croatia through the National Guard State Partnership Program, or SPP.
This is the third SPP event with Croatia that U.S. Air Force Master Sgt. Ryan Borre has participated in. Borre is the non-comissioned officer-in-charge of the DCOE. After spending 16 years in air transportation, he answered a call for Airmen with cyber skills and cross-trained into cyber operations. He also works as a reverse engineer for Target Corporation.
"Cyber is the way of the future," Borre said. "Right now, I don't think it's as well known in studies as it should be. Even in school, they're just starting to create these cyber courses, but there's really no formal training that prepares you because things change much faster in this environment. So, for me between military and civilian, I spend a lot of time training and researching and learning about new technologies and new capabilities and it's just a never-ending job."
The members of the 177th CPT and DCOE work in cyber related career fields in their civilian careers or within the Minnesota National Guard as full-time service members. The cyber career field is one that requires constant education and is continuously evolving.
This multinational exercise is unique in this scope with two teams pitted against each other, a red team on the offensive and a blue team on the defensive, said Croatian Armed Forces Maj. Dajan Petek, commander of the cyber security operation and response unit in the Croatian Cyber Command. This exercise also comes at a significant time for Croatia.
"This event comes on a really special anniversary for us," said Petek. "This year we are celebrating the 30th anniversary of the Croatian Armed Forces." The Croatian War of Independence, or Homeland War, began in 1991.
This is also the 25th anniversary of the Minnesota National Guard's state partnership with Croatia. The partnership with cyber defense events started in 2012.
"The partnerships make everybody better," said U.S. Army Lt. Col. Dan Cunningham, networking officer with Minnesota National Guard Joint Force Headquarters. "We learn from the Croatians as much as they learn from us. The friendships that you can make in these programs are pretty incredible."
These types of exercises enable each nation to learn what the other goes through, the challenges they face, what they excel at, and then to further build off of each other, Cunningham said.
State partnerships facilitate learning, cooperation, and cultural exchanges that benefit the U.S. Armed Forces and their partnered countries. The exercises across career fields from armor to cyber strengthen service members in their expertise. The partnerships are more than a cultural trip abroad, they are mission essential.
Story by Sgt. Sebastian Nemec, Minnesota National Guard public affairs