A pivotal deployment that led to a military career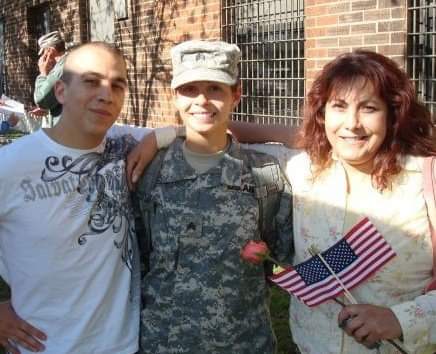 Oct. 22, 2021 (ST. PAUL, Minn.) – Every Soldier has their reason for joining the military. Every Soldier has their reason for continuing to serve. For Army Sgt. 1st Class Erandi Lindsey, her path evolved from earning school benefits to a passion for taking care of Soldiers.
Lindsey, the medical administrative noncommissioned officer for the surgeon cell of the Office of the State Surgeon, Minnesota National Guard, started her career as a cable systems installer 18 years ago.
She began her military career in the Minnesota National Guard at 17 years old, just a week after her birthday, in 2003. After her unit was reorganized, she transferred to G Co., 134th Brigade Support Battalion, and changed her military occupational specialty to a water treatment specialist.
Her career path continued to change during her deployment to Balad, Iraq, in 2008-2009 with the 834th Aviation Support Battalion, whereas a water treatment specialist, she treated more than just water.
Lindsey volunteered at the hospital run by the U.S. Air Force. She sat in on surgeries, took out stitches, and helped with burns. The hospital had Wednesday clinics for Iraqi civilians to come on base and get various treatments, said Lindsey. "That's when I fell in love with and wanted to be in the medical field. If I was going to stay in the military any longer, 68W (combat medic) is what I wanted to do"
A pivotal point for Lindsey while volunteering at the hospital was when she treated a woman for severe burns all over her body, she said. Every week, the woman would visit the base hospital to have her burn wounds cleaned, treated, and redressed. Lindsey saw the progress of the woman's treatment and how excited she was as she healed.
"That just showed me that that's where I want to be," Lindsey said. "That's what I was interested in is seeing, the healing, whether it be in these surgeries or seeing these people every week. For me, it's just about treating people the way that they should be treated and really taking care of each other."
After returning from her deployment, Lindsey finished her bachelor's degree from St. Cloud State University with a biology emphasis. She began working as a Tricare Reserve Select coordinator for the Office of the State Surgeon, Minnesota National Guard, in 2012. And in 2014, Lindsey changed her military occupational specialty to a combat medic and became the medical readiness noncommissioned officer for the 834th ASB.
"I love taking care of Soldiers," said Lindsey. "I chose to join for the education benefits and to serve my country. I had no idea that it was going to lead to this long of a period."
Lindsey grew up with two strong, female influences in her life, her mother and her grandmother, she said. They both emigrated from Mexico to the U.S. and didn't speak English. They taught her that she could achieve anything through determination and hard work.
"I've been able to better myself because of all the things that they did for me," said Lindsey. "That's really shaped where my mindset is now. I've always been very proud to display my heritage because that's a huge part of my upbringing."
She said that connecting with Soldiers and passing on the hard work and determination ethics is one of the most important things to her. Helping Soldiers in and out of the uniform is necessary to creating a unit that thrives individually and organizationally.
"Being able to have hard conversations with Soldiers and building that communication, really listening to what Soldiers' needs are has been what I pride myself on," she said.
Hispanic and Latinx Heritage Council
Lindsey serves as an advisor to the Minnesota National Guard's Hispanic and Latinx Heritage Council. The council brings more awareness to the culture of Hispanic and Latinx people to members of the organization and the greater Minnesota community.
"I think it's important so that we can see that there is other diversity within the Minnesota National Guard and seeing other people who have had similar upbringings," said Lindsey. "I think it's important for other Hispanics to see that there are people who are trying to educate others on the culture and the experiences and the community."
The council hosts several events throughout the year, participates in corporate panels, volunteers in the community, and works with the office of diversity and inclusion to promote awareness and diversity into the force, said Lindsey.
"When we do our community events, it's important to show the community that it is a diverse force and we're here to help all people, and we're welcoming," she said.
Lindsey is also passionate about bringing together Latina women and all women throughout the force after beginning her career as one of a handful of women in her first field artillery unit.
"At the [134th Brigade Support Battalion] there were more females, and at the time when I did enter the military, there wasn't a lot of female presence," she said.
She is proud to be a voice for women in the military and uplift other women's voices, she said. The Minnesota National Guard hosts an annual Women's Leadership Forum with other Minnesota companies to find solutions to issues that women face in their military and civilian careers.
Path to promotion
When Lindsey enlisted in 2003 as a private, she didn't see herself staying in for 18 years and now pinning on sergeant first class rank.
"That wasn't something that I was seeing in the future when I signed the dotted line in 2003," she said.
Over her career, Lindsey has worked in three military occupational specialties and taken on even more job duties. She has progressed through the organization from a line unit to a battalion, and finally to the office of the state surgeon. Her experience has given her the insights, tools, and passion for helping Soldiers as they progress in their careers.
"Regardless of where you came from or your upbringing, your experiences are valid," said Lindsey. "Everything you've gone through to this point in your life has a direct impact on how you are today, and while you don't want to forget that, that's not where it ends. If you put in the hard work and you have the determination to meet your goals, then you will do it."
Story by Sgt. Sebastian Nemec
Minnesota National Guard Public Affairs