AESA Radar modernizes Bulldog F-16s for the next generation of airpower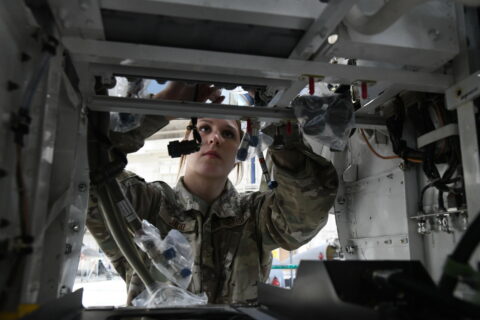 DULUTH, Minn. —  Nine Block 50 F-16CM Fighting Falcons from the 148th Fighter Wing received the new active electronical scanned array (AESA) radar that allows pilots to "find targets in the air and on the ground more easily," said Maj. Michael Kuzmuk, Chief of Wing Weapons for the 148th Fighter Wing. 
"The new AESA radars are a huge leap in technology that will make the F-16more lethal and survivable against potential near peer threats," said Col. Nathan Aysta, 148th Fighter Wing Commander.
The 148th Fighter Wing is a multi-purposed Suppression/Destruction of Enemy Air Defense (SEAD/DEAD) and a NORAD Aerospace Control Alert-trained (ACA) flying Air National Guard unit located in Duluth, Minnesota. The 148th is one of five F-16 SEAD/DEAD units in the entire U.S. Air Force and one of two SEAD/DEAD units in the Air National Guard.
The SEAD/DEAD mission seeks to disrupt or destroy enemy air defenses, to include surface to air missiles and integrated air defense systems (IADS). The 148th most recently conducted SEAD/DEAD during their 2022 deployment to the 378th Air Expeditionary Wing, Prince Sultan Air Base, Saudi Arabia.
NORAD's ACA mission requires flying units, like the 148th, to intercept temporary flight restriction violators, investigate aircraft that are out of radio contact and scrambling against unknown aircraft when ordered by NORAD. Since 9/11, the 148th has supported NORAD ACA from several U.S. locations to include Duluth and Minneapolis, Minnesota, the National Capitol Region, Carswell Air Reserve Station, Texas; Hickam Air Force Base, Hawaii; Elmendorf Air Force Base, Alaska; Fresno Air National Guard Base, California and more.
The radar upgrades, funded by Air Combat Command, began in in early September and wrapped up in December. "Each jet took approximately seven-days with technicians from both the 148th Fighter Wing and Lockheed Martin performing work," said Staff Sgt. Scott Phillips, the lead 148th Fighter Wing avionics technician assigned to the project. "We took apart the front end of the jet, removing the antenna, computer and all other old radar components, then the Lockheed Martin technicians installed the new radar components and performed operational checks," added Phillips.
"The AESA modernization is the biggest improvement to the F-16 since it came off the assembly line," said Kuzmuk. "It allows us to see a much clearer picture of our targets in real-time."
The 148th's F-16s are amongst the newest and most capable F-16s in the U.S. Air Force fleet.  Despite being built in the early 1990s, these F-16s are part of the advanced combat fleet (ACF) and are programmed to be in the Air Force through the mid-2040s.  In addition to the AESA radar upgrade, the 148th fleet is undergoing a dozen structural and strengthening modifications through the F-16 service life extension program (SLEP). 
By Audra Flanagan
148th Fighter Wing