Airmen First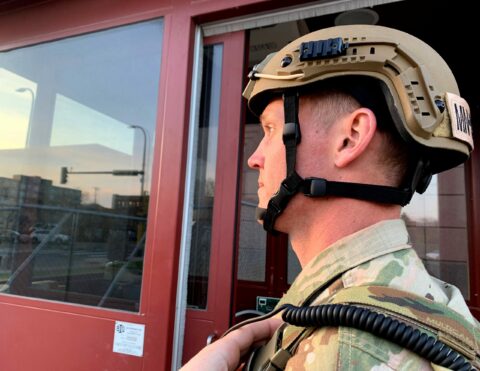 April 28, 2021 (ST. PAUL, Minnesota) — As the verdict in the former Minneapolis Police Officer Derek Chauvin trial was announced, U.S. Air Force Airmen from the 133rd Airlift Wing were staged and ready to secure the Minneapolis Convention Center.
The Airmen were just 50 pieces to a 3,000-piece puzzle, activated to support Operation Safety Net, a unified effort between multiple Minnesota law enforcement organizations and the Minnesota National Guard. Guardsmen were pre-staged throughout Minneapolis and St. Paul to protect lives, property, and the right to peacefully protest.
"The Army is better suited to assist law enforcement due to their training and equipment capabilities," said U.S. Air Force Maj. Casey Brown, Officer-In-Charge of team Bravo, 133rd Airlift Wing. "Conducting this security mission to ensure their forces were focused on supporting law enforcement was a perfect assignment for this team."
The 133rd Airlift Wing practices an "Airman first" mentality. This mission was no different as members from multiple career fields, from weather specialists to medical professionals, were assigned to perform the security mission.
"I'm a crew chief," said U.S. Air Force Staff Sgt. Emily Berg, 133rd Airlift Wing. "Normally, I conduct inspections on our C-130 Hercules and make sure they are operational and ready to fly. I have never done something like this before, but the people that I have met I will not forget."
The 133rd Airlift Wing plays an ongoing role in domestic operations for the State of Minnesota, most recently providing 10% of airlift supported the Presidential Inauguration mission in January. The entire Wing of 1,200 members was activated last May in response to civil disturbance after the death of George Floyd. Additionally, Airmen have been assisting the Department of Health with their COVID-19 response at long-term care facilities, testing sites, and most recently, at vaccine clinics administering the COVID-19 vaccination.
"I am extremely proud of this team," said Brown. "Everyone maintained a positive attitude while facing uncertainty coming out here and the continuous changes that come with an operation like this."
Story by Amy Lovgren, 133rd Airlift Wing public affairs