All-gun fire mission culminates unit's training experience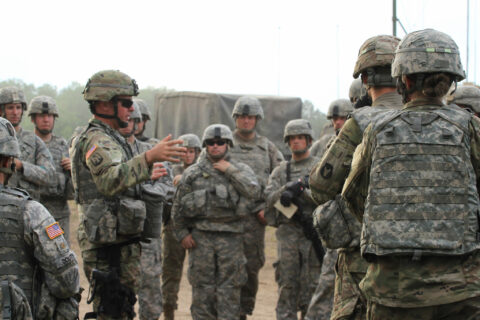 By Staff Sgt. Anthony Housey
Camp Ripley Public Affairs
CAMP RIPLEY, Minn. (August 2, 2017) – Soldiers of the Minnesota National Guard's 1st Battalion, 125th Field Artillery took part in a battalion-size live fire exercise July 30, 2017, at Camp Ripley.
"It is the first time that we have done a battalion fire mission in one location and was a great opportunity to be a part of," said Lt. Col. Christopher Ward, the battalion commander.
The battalion moved into the Camp Ripley training area during the second half of July to conduct their annual training period and qualifications.
The mission of the 1-125 FA is to provide artillery fire support to the 1st Armored Brigade Combat Team, 34th Infantry Division by deploying each of the unit's three six-gun field artillery batteries to answer calls for indirect fire support.
While at Camp Ripley the several elements of the battalion moved to complete their standard qualification tasks, ensuring their soldiers were ready to meet readiness requirements and be able to carry out their federal mission of going to war, should they be called.
"Everything was tied together with a lot of second and third order effects as we executed our core tasks; challenging the staff for coordinating efforts across the battalion and the outcome was very good," added Ward.
Headquartered in New Ulm, the battalion began their two-week annual training period with experiences and lessons learned following a rotation at the National Training Center in Fort Irwin, Calif., last summer.
"We are still learning lessons from our NTC rotation and we are looking forward to combining new lessons, post-annual training, and see where we can increase our proficiency levels before next year," Ward said.
As true with any Army unit, the 1-125 FA experiences change within their ranks as older soldiers transition out and younger soldiers move up to take their place. The result is a malleable learning curve that units adjust to increase or sustain current tasks and standards. Prior to the battalion fire mission, each crew and section successfully completed several variations of their required tasks.
A "fire mission" for indirect fire is done by receiving information on a target not in the direct line-of-sight of the cannon. Then by calculating azimuth and elevation angles for directing the fired projectile a gun or battery can engage targets observed by forward units. The coordination for a battalion size fire mission included all three batteries of six guns each, their Fire Direction Centers as well as the Command & Support elements.
"It's a part of the higher qualification tables and we geared it as a competition between the platoons and the batteries to be a capstone event that all our training lead up to," said Ward.
As the sun went down on Camp Ripley's training area, the radio chatter began and the sky lit up as seventeen 155-mm cannons from M109A6 Paladin howitzers fired a salvo into the impact area.
"It was a great experience and very motivational for a lot of soldiers for the battalion," Ward said. "For many of them it was the first time they had seen that level of combat power massed in one place and executed in that manner in one event, it was very impressive."