"All-In": As long as we're needed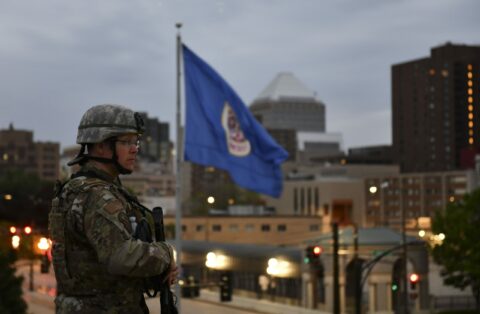 June 5, 2020 (MINNEAPOLIS, Minn.) — In Minneapolis, just before a 10 p.m. curfew, a white sport utility vehicle pulls to a stop at the corner of Cedar Avenue and East 26th Street, waiting for the stoplight to turn green. On this same corner are Minnesota National Guard Soldiers from Charlie Co., 2nd Battalion, 136th Infantry Regiment, 34th Red Bull Infantry Division. They are providing security for Cedar Food & Grill, the only grocery in a two-mile radius that has not been ravaged by looters.
"How long are you guys going to be here?" The driver shouts to a troop on the sidewalk.
"As long as we're needed, ma'am," he replies.
When Minnesota Governor Tim Walz authorized a full activation of the Minnesota National Guard on May 28, Minnesota Adjutant General, Maj. Gen. Jon Jensen said, "We are 'all-in' for the people of Minnesota."
Civil unrest ravaged Minneapolis as the month of May came to a close. Looting was rampant, fires raged in small businesses and a police precinct was burned to the ground. The people of Minnesota needed extra security that the National Guard could provide.
Members of the Minnesota National Guard come from all over the state. Though their experience and perspectives may differ, they work together and accomplish any mission placed before them. Thousands of Minnesota Citizen-Soldiers and Citizen-Airmen heeded the call to drop everything and respond to the needs of their state.
Pfc. David Sanchez was ready and quick to report for duty. A lifelong native of South Minneapolis, he has been too busy to think about what's going on outside of his current mission. In the days before being activated, Sanchez was managing an auto parts store on Lake Street in South Minneapolis. One night, after locking up the store, people rushed the building and began looting. The next day it was burned.
Since being placed on state active duty, Sanchez has been standing shoulder to shoulder with his National Guard brothers and sisters of the 175th Forward Support Company as they conduct security missions across the Twin Cities, both day and night. "Not everybody here is from the metro. Sharing my experience with these guys is pretty nice," Sanchez said. "Maybe it changes their perspective knowing that this is home for someone they're right next to."
For the 257th Military Police Company, one of the first units activated for the state's active duty mission, their time has been filled with both challenges and rewards. At least, that is how Staff Sgt. Chase Tao puts it.
"Coming together like this, it is more breadth than depth. We are from all walks of life," she says. When Tao is not doing her military duties, she is a sheriff's deputy in the metro area. In her 14 years of service in the Minnesota National Guard, she has never seen a mission this complex. "What is most important, though," Tao said, "Is that a lot of what we do today will affect tomorrow. We are human and here to help out."
Farther north, at the Arden Hills Armory where hundreds more troops have mustered, other members of the 257th rest and wait for their next shift or on-call mission. A paramedic by trade, Spc. Emerson Swenson was also activated. As a combat medic, he provides an important set of skills to his team as they support civil authorities.
"Duty comes first," said Swenson. "I'm proud of doing this."
Security Forces Squadrons from both the 133rd Airlift Wing and the 148th Fighter Wing brought their quick reaction force teams to the response.  Tech. Sgt. Michael Fish is a member of the 148th Fighter Wing Security Forces Squadron headquartered in Duluth.  Fish is the third generation of men in his family to make a career in the 148th. "I know everyone I've talked to is just proud to be here," said Fish. "That's the oath we all took. That's what the National Guard is all about."
Troops have completed over 60 unique missions since state activation began, many of which have lasted for multiple days. From protecting the last un-looted grocery store to providing security so that firefighters can accomplish their life-saving mission, the Airmen and Soldiers of the Minnesota National Guard have remained committed to the needs of Minnesotans.
Story by Staff Sgt. Linsey Williams, Minnesota National Guard public affairs
For members of the Minnesota National Guard, the missions they conduct within the borders of the state are personal. As members of your communities, friends, families and neighbors, we would like to share their stories with you.