Annual Military Appreciation Day Honors Vietnam Veterans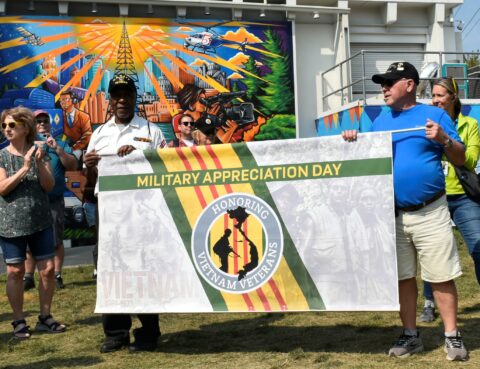 The 12th Annual Military Appreciation Day at the Minnesota State Fair on Aug. 29 featured 50 educational and military-connected booths at Dan Patch Park, along with on-stage entertainment, recognition ceremonies, family-friendly activities, and a flyover.
It also included a special tribute. In observance of the 50th anniversary of the last service members leaving Vietnam as the Vietnam War ended, more than 175 Vietnam and Vietnam Era veterans marched a six-block route through the state fair. Then, led by an all-service Color Guard, they entered Dan Patch Park amid loud cheers and thunderous applause from hundreds of military veterans, service members, families, guests, and fairgoers. Flags waved and the song "Proud to Be an American" played as many people shook the veterans' hands to thank them for their service or hugged them and greeted them with a heartfelt, "Welcome home."
On stage, retired Capt. Kay Bauer who served 35 years as a Navy nurse, addressed her fellow veterans. Bauer was part of a forward surgical team at a hospital in Vietnam and received the Humanitarian Medal of Honor from the South Vietnamese government.
"Vietnam was a time of uncertainty, but it also revealed the strength of our human spirit. We faced challenges that tested us, and we found light in camaraderie, shared purpose, and the determination to protect the values we hold dear…Those were tumultuous times, and it warms my heart to see the support and gratitude that this gathering stands for. A far cry from the reception many of you received decades ago," Bauer said. "…Please take a moment to acknowledge and remember those who could not be here with us. Their memory lives on in the legacy of service and sacrifice that we carry forward. And we honor them by fostering a world of compassion, understanding, and support… Together we can create a future that honors our past and ensures a brighter tomorrow."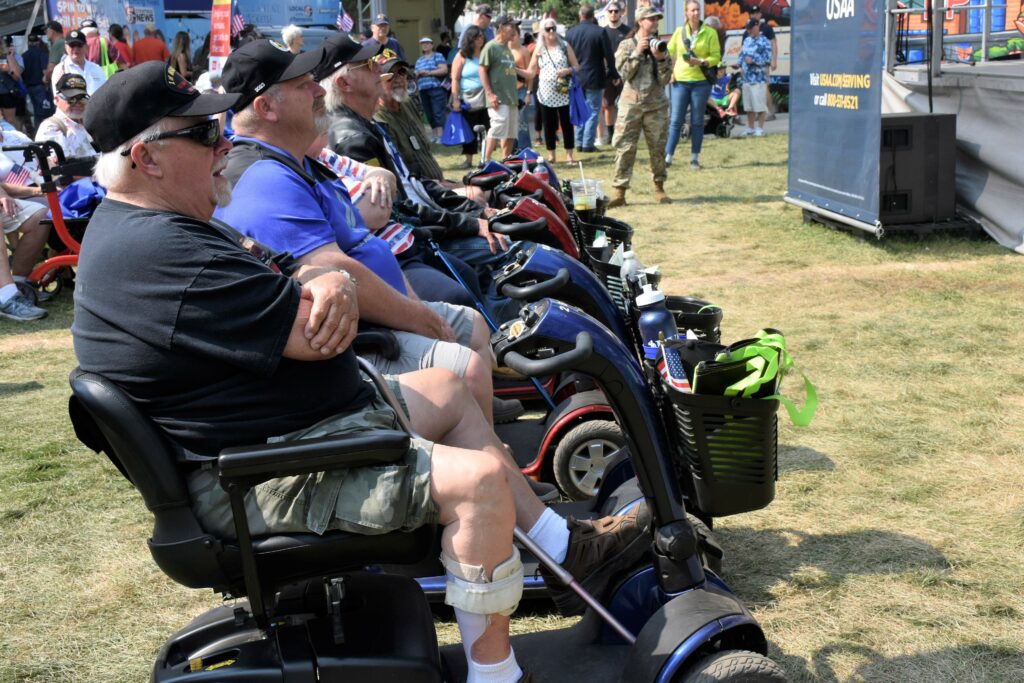 The Vietnam and Vietnam Era veterans received a commemorative baseball hat with a specially designed logo. Printed on the back were the words, "Until They All Come Home."
The Vietnam War was the United States' longest and costliest conflict of the Cold War. More than 8.7 million Americans served in the Armed Forces during the Vietnam era from 1964 to 1973. More than 3.4 million were deployed to Southeast Asia and approximately 2.7 million of those served in the Republic of Vietnam. The Vietnam Veterans Memorial in Washington, D.C., is inscribed with the names of 58,279 service members who died in theater from 1957 to 1975. More than 47,000 lost their lives as a result of combat and nearly 11,000 died from other causes. More than 300,000 were also wounded during the war. There are more than 5.8 million Vietnam veterans living in the United States, with an estimated 97,000 in Minnesota.
Cristina Oxtra
Minnesota National Guard Public Affairs