Army Guard director awarded Croatian Duke of Trpimir medal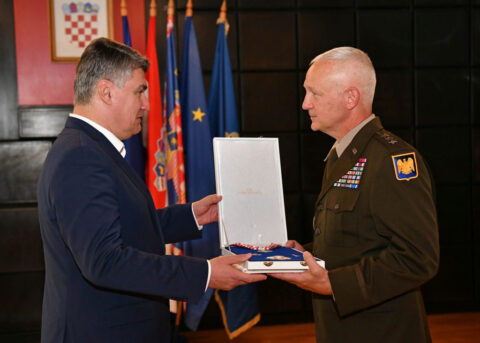 September 30, 2021 (ARLINGTON, Virginia) – The director of the Army National Guard was awarded the Duke of Trpimir medal by Croatian President Zoran Milanović during a ceremony Sept. 27 in Split, Croatia, honoring the 25-year partnership between the Minnesota National Guard and Croatia.
"I'm proud of the long-standing partnership and am deeply honored to accept this award on behalf of all the Soldiers and Airmen who have built this great relationship," said Army Lt. Gen. Jon Jensen, the director of the Army Guard.
The partnership is part of the Department of Defense's State Partnership Program, which pairs National Guard elements with partner nations worldwide. The SPP currently consists of 85 partnerships with 92 nations.
Since the partnership was established in 1996, Minnesota Guard Soldiers and Airmen have trained and worked with members of the Croatian military.
"Accept this decoration, this major Croatian order, as a token of appreciation and respect for everything you have done in building our relations," said Milanović during the ceremony.

Jensen previously served as the adjutant general of the Minnesota National Guard and held command positions in numerous Minnesota Army National Guard units, including the 34th Infantry Division.
"This year marks the 25th anniversary of our relations and, indeed, it means a lot to me to receive such an award on that anniversary," said Jensen.
One of the culminating moments of the partnering came in 2010 when members of the Croatian military deployed to Afghanistan with the Minnesota Army Guard.
"That right there is such a significant measure of operational success for this partnership program," said Army Maj. Gen. Michael Wickman, commander of the 34th Infantry Division. "It shows interoperability in a combat situation."
That also worked to underline a key element of the partnership – training and working together.
"They do have some very professional soldiers," said Minnesota Army Guard Maj. Lukas Wright, who served on an operational mentoring and liaison team alongside Croatian soldiers during the 2010 deployment. "There's always something you can learn from another nation, another soldier that you can grow with and bring back to your unit."
Jensen added that he's looking forward to the next 25 years of the partnership. Milanović agreed.
"From the Croatian perspective, this cooperation is much more than a formality," he said. "I see how much it means to our people, and we want it to stay that way. I am confident it will continue."
Back in Minnesota, that holds true as well.
"You can't do things unilaterally," said Wickman. "You really have to have great relationships and partners to deal with these complex issues that span the globe."
It goes back to simple teamwork, Wickman added.
"We really won't be successful without our partners," he said.
By Sgt. 1st Class Jon Soucy, National Guard Bureau