Aviation Support Battalion recognized for safety efforts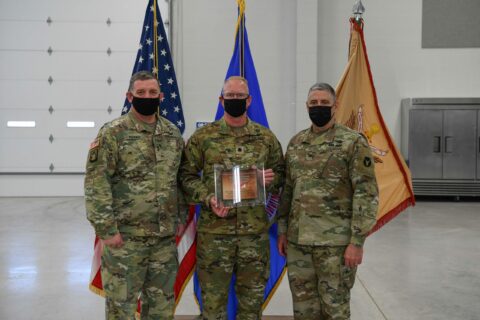 March 16, 2021 (ARDEN HILLS, Minnesota) — The 834th Aviation Support Battalion received the 2020 Army Exceptional Organization Safety Award for the battalion level, March 14, 2021, at the Benjamin Franklin Readiness Center in Arden Hills, Minnesota.
The battalion was chosen out of seven other nominees by a panel of safety experts and approved by the Secretary of the Army and Chief of Staff of the Army. The 834th deployed to the Middle East in support of Operation Inherent Resolve and Operation Spartan Shield from the fall of 2019 to the fall of 2020.
"Since the 834th was deployed for a majority of 2020, this was a perfect opportunity to throw our name in the hat," said battalion safety officer and maintenance test pilot Chief Warrant Officer 4 Brett Setterlund.
As battalion safety officer, Setterlund advises the commander and staff members on hazard awareness, risk management and loss prevention measures that affect the battalion as a whole.
"Lt. Col. O'Meara began every command and staff meeting with my safety slide," said Setterlund. "That's how much safety was at the forefront of the leaders in the 834th."
The battalion submitted a seven-page summary of the safety program that was being implemented during their deployment to Kuwait. The summary included pictures of internal inspection results and various safety boards posted throughout work areas.
The battalion was quick and never afraid to report accidents and near-misses, Setterlund said.
"I think everyone can look back and be proud of the programs they've helped develop and the steps they took to keep each of their soldiers safe overseas," said Setterlund.
Story by Capt. Danny Morris, 34th Expeditionary Combat Aviation Brigade