Beyond the Yellow Ribbon embarks on new chapter, looks to future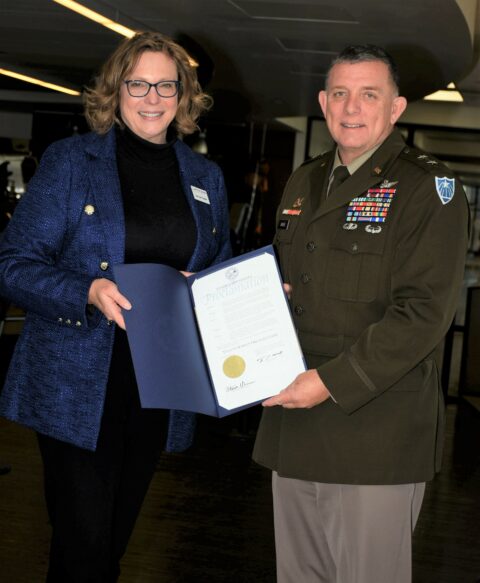 Minnesota's Beyond the Yellow Ribbon program, known as BTYR, had a busy year in 2022, filled with events, activities, a new team, and plans for the future.
Through its community and corporate partnerships, BTYR provides military veterans, service members, and their families in all branches a wide range of support, including deployment readiness, family assistance and resources, youth programs, educational and career opportunities, and more. The community and corporate partnerships work together to raise awareness, recognize, celebrate, and meet the needs of Minnesota's military community.
"With the decline in retention, it is important now more than ever that our military-connected families feel supported by their communities," said Stefanie Hurt, the new community outreach coordinator for northern Minnesota. "Recruit a Soldier, retain a family."
This year, the team, along with community and corporate volunteers, connected with fairgoers during Military Appreciation Day at the Minnesota State Fair in August. The team also held conferences in April and November for BTYR companies and organizations to share best practices in supporting the military community in the workplace and beyond. For the holiday season, Meals from the Heart along with community and corporate sponsors and volunteers teamed up to raise funds, pack, and deliver food for those in need in the military community.
Community networks across the state hosted successful events, including golf tournaments, cookoffs, Veterans Day programs, sporting events, picnics, fundraisers, and sending care packages to deployed service members.
As a National Guard service member, Shawn Powell, the new community outreach coordinator for southern Minnesota, knows first-hand the impact the community networks can make.
"I enjoyed the BTYR care packages sent to us in the Middle East and the BTYR family events on the home front," Powell said. "It's important to sustain the outreach within each BTYR city, county, company, and all networks as well as ensure all families are aware of the BTYR network in their community and the support they can receive."
In the corporate network, six companies were proclaimed as new BTYR companies or organizations, making a total of 79 active companies and organizations since the program was established in 2008. Companies' and organizations' efforts are an ongoing commitment to supporting military employees and communities that builds a stronger and more compassionate, equitable, and inclusive workplace.
Looking toward 2023, the team plans to reenergize community network partners, host a Joining Community Forces event, establish a stronger public presence, and strengthen the relationship and collaboration between the community and corporate networks.
"We plan to create ways to connect our BTYR corporate and community networks to promote volunteer opportunities, share best practices, and increase opportunities for our military-connected families throughout the state," said Taylor Kristoffe-Jones, the new BTYR corporate outreach coordinator, who plans to also identify new partners that would be interested in being part of the Beyond the Yellow Ribbon network.
Cristina Oxtra
Minnesota National Guard Public Affairs
To learn more about BTYR, visit the BTYR page on the Minnesota National Guard website and follow on Facebook and Twitter.