Blazing a path to the top 1%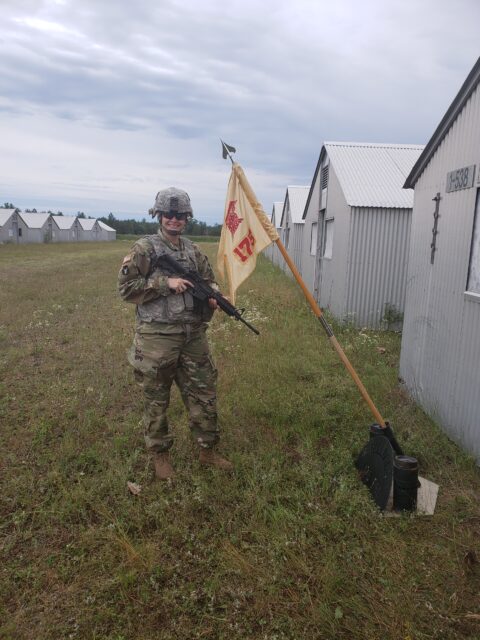 Attaining the rank of sergeant major is not an easy task. Less than 1% of the Army is comprised of Soldiers holding the rank.
To achieve the rank, master and first sergeants must complete 18 months of rigorous distance learning and a two-week resident course phase at the Sergeants Major Academy at Fort Bliss, Texas.
Four Minnesota National Guard Soldiers, Sergeants Maj. Megan Allen, Jeanette Chaffee, Sandra Johnson, and 1st Sgt. Sadie Rezac, recently took on that challenge.
"The higher up I go the more I understand I have more to learn, but I also have an obligation to serve those under me," said Allen, a brigade operations sergeant major at the Headquarters and Headquarters Detachment, 84th Troop Command. "Assuming the rank of sergeant major has a lot of responsibility that goes with it, and I feel the weight of the decisions I make, knowing they're going to impact those around me."
The mission of the academy is to, "provide the Army with agile, adaptive senior enlisted leaders of character, competence, and commitment to be effective leaders. These leaders, grounded in Army and Joint doctrine, exploit opportunities by leveraging and applying Army resources."
Allen has her sights set on eventually becoming a command sergeant major, and she is learning a lot from other leaders throughout the Army.
"I've gained a lot of insight just from the discussions, different perspectives, and shared experiences from my classmates," said Allen. "The interactions are something I've really enjoyed."
Rezac, a senior maintenance first sergeant, enlisted with a goal of completing 20 years of service.
"After many conversations with senior leaders, their encouragement and faith in my abilities to move to the next level really got me thinking," added Rezac. "Now that I have been in the academy my new career goal would be to become a command sergeant major."
Rezac advises other Soldiers to look at the big picture when creating their own goals, explaining that they will continually develop as things change in life.
"Don't just focus on the 50-meter target. Look long range to that 300-meter target and where you see your life; then, think about the impact your military service can have on this," said Rezac. "Understand that goals will continually be developing as things change in your life."
Chaffee, senior logistics operations noncommissioned officer with the Headquarters and Headquarters Company, 347th Regional Support Group, shares a similar opinion.
"Own your career, as it is your career," said Chaffee. "Your leaders will evaluate you, but it is your role to ensure they know what you are capable of and where you want to go in your career."
She credits family for supporting her as she navigates the academy.
"Between my husband and my daughters, they have taken on almost all the duties [at home] in order to give me time to work on assignments."
Aside from attending the Sergeants Major Academy, each of these leaders have something else in common. They want to inspire the next generation of Soldiers.
Before she became the chief medical noncommissioned officer in the division surgeon section for the 34th Red Bull Infantry Division, Sgt. Maj. Sandra Johnson served as the medic company first sergeant leading 70-100 Soldiers.
Now she only has of 12 Soldiers under her watch but hopes her decision to get promoted will inspire a new generation of leaders.
"My goal is to help mentor them and help them see all of career opportunities that the Minnesota Army National Guard has to offer," said Johnson. "But also show that we need good leaders that are willing to take on [high ranks] in order to make positive changes."