Brig. Gen. Sandy Best receives Public Leadership Award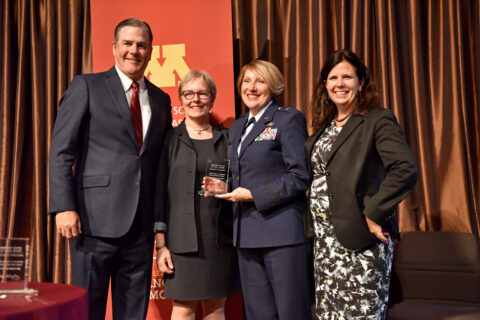 April 26, 2019 (ST. PAUL, Minnesota) — Brig. Gen. Sandy Best, Chief of Staff of the Minnesota Air National Guard, was recognized at the 17th Annual Hubert H. Humphrey Public Leadership Awards at the University of Minnesota on April 23, 2019. Best, a Humphrey Policy Fellow from 2011-2012, was one of three public leaders awarded for their efforts and dedication to advancing the common good through leadership and service.

"I believe people first, mission always," said Best of her current role ensuring all Minnesota National Guard Airmen are trained to meet the federal mission of fighting and winning America's wars, state mission of responding to domestic emergencies, and community mission of representing the military and earning trust within the communities they live.
Best says she believes in transformational leadership and that developing leaders through gaining knowledge of their goals and supporting them to realize their dreams benefits the entire organization and is statistically proven to produce superior performers.

Upon receiving notification of the award, Best says she first felt, "What did I do to be worthy of this award, why me?" Humbled and honored to receive such an award, she realized she couldn't have achieved it without the people she's worked with, and decided to accept it on behalf of all the Airmen and Soldiers of the Minnesota National Guard.

Best was one of two selected by the Minnesota National Guard to participate in the nine-month Humphrey Policy Fellow program in 2012. The program emphasized how to put aside differences and work together to benefit society and the greater good, essentially solving big problems while appreciating diversity. Best says the experience stretched and groomed her a lot.

"Being teamed up with diverse classmates, who each had their own individual interests and backgrounds, was a challenge that taught so much of how to come together on one topic and agree to be able to present a unified point of view," she said.

They had an opportunity to observe and meet with senators and congressional leaders on a trip to Washington D.C. Best was surprised to learn of how small a sliver the Department of Defense is overall. Seeing the big picture unfold of how policy was driven and understanding how many demands were put on congressional leaders, along with all the knowledge they needed to have to be successful at their jobs, was eye opening.

The public leadership award recognizes individuals who have contributed to the common good through leadership and service. As a leader in the Minnesota National Guard, Best believes great leaders listen and know their people. She recognizes the importance of having a clear vision and understanding the values and priorities of the organization.

As her career of serving in the military hits just over 35 years, Best reflected and said she has no regret in joining and would do it all over again. Starting as an enlisted troop in personnel, earning a bachelor's degree that lead to becoming a commissioned officer, to the more than 11 roles fulfilled as an Air National Guard officer and commander, were all (unbeknownst to her) stepping stones to get her to where she is today. Recently, Best accepted a position as the Special Assistant to the Chief of the National Guard Bureau for Diversity and Inclusion, in addition to her current role.

Best says she credits teamwork and a consistent change in roles for the success she's had in her career. She feels her greatest achievement serving in the military, and in life, has been the ability to develop and mentor others and get to see them accomplish and obtain their dreams.
Best's parents were her first mentors who taught her a hard work ethic and can-do attitude. Her mother always used to tell her, "You can do anything boys can do … only better."
Story and photos by Tech Sgt. Dani Tharaldson