Camp Ripley Ammunitions Supply Point receives above average rating in recent inspection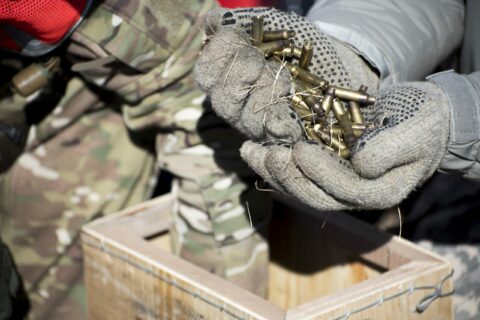 June 4, 2021 (CAMP RIPLEY, Minnesota) – An ammunition review team from the Defense Ammunition Center recently visited Camp Ripley to conduct a Department of the Army inspection of the Ammunition Supply Point. During the three-day inspection, the team determined that Camp Ripley is above the average in compliance for the National Guard.
Camp Ripley received a rating of about 95 percent in compliance, significantly higher than the National Guard average of 88 percent.
Camp Ripley is holding its annual Amnesty Day on June 4, 2021. Amnesty Day allows military personnel and civilians to return any military ammunition or explosives anonymously. The collection point will be in the parking lot of the Range Control/Ammunition Supply Point Building 24-199. A qualified ammunition inspector will be present to accept the amnesty turn-ins. The ASP will not ask any questions, nor will there be any record made of who turned in the items.
Similar to Amnesty Day, Camp Ripley recently conducted an installation safety day which took place virtually this year due to the COVID-19 pandemic. Brig. Gen. Lowell Kruse, Camp Ripley Senior Commander, gave a video message and the remainder of the schedule included presentations of watercraft and ATVs, hand gun ownership, chemical care and spill response and safety culture.
Some important take-aways from the presentations were that training, wearing proper protective equipment and obeying the law are key to preventing accidents and injuries. Every Soldier and Airmen plays a part in reducing risk to themselves and others during training and during everyday life.
"Safety Day is not just a one-day event," said Chief Warrant Officer 4 Daniel Bednarek, the Camp Ripley Installation Safety Officer. "It should be a lifestyle, both on and off duty. We want our employees, staff, Guardsmen and their families to be safe both at home and at work."