Camp Ripley Training Center Hosts Joint Military, Civilian, and First Responder Communication Exercise with the Department of Public Safety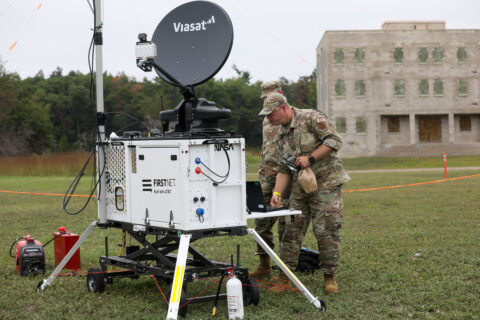 Camp Ripley was hosted a joint training exercise conducted by the Minnesota Department of Public Safety. The Minnesota National Guard, federal, state, and local organizations conducted a joint communication exercise on August 23rd and 24th, 2023, utilizing Camp Ripley's urban operation ranges to increase operational readiness and interagency coordination between all levels.

"The overall goal was to make people from the communication units work together that don't normally work together and to practice how to coordinate efforts in a multi-scale operation," said John Dooley, the manager of the Integrated Public Alert and Warning Program and Communications Unit for the Department of Public Safety.
Dooley continued, stating that Camp Ripley has been an ideal location to complete this goal for years due to its location and large training facilities.
"Camp Ripley for us is centrally located within the state," said Dooly. "We use the stone buildings on ranges as the mock cities and giving points of realism out there. Maybe the city could have been flooded out. Maybe the city could have been part of a windstorm. That helps us to put in and inject into the exercise that, you know, these things could have happened here. And then how do they figure it out from there?"
The units used these ranges as they were given unexpected mishaps and errors during the exercise that could potentially occur during future operations. They teams needed to communicate between each other and find solutions while being separated by miles of training area and cement buildings.
"We tried to use this area here as the Emergency Operations Center (EOC) and talking to and out of the EOC in the field. How do we accomplish that? How do we accomplish it when the internet goes down? How do they get a message back and forth when their radio goes down? You know, when they have no more push-to-talk," said Dooley. "We need people to think out and really use their plan of how they're going to communicate. To find out what's their way of communication. What's the alternate way communication? What's your emergency way of communication?"
Dooley says a key incentive for training at Camp Ripley is its affordability. "The biggest thing that we utilize it for is the economic factor. Camp Ripley has the hotel-like rooms, and training facilities, which are far better priced than any other facility in the state."
The civilian organizations and first responders from across the state also worked alongside Minnesota National Guard personnel from the 133rd and 148th Communication Flights, 210th Engineering Installation Squadron, Joint Force Headquarters (JFHQ) J-6 and J-33 during this exercise to train their communication units in scenarios like state activations that could require interoperability of communications.
"About 20 total National Guard services members will be deploying and exercising domestic operations communications capacities and procedures," said Master Sgt. Graham Lorence, the Minnesota Air National Guard JFHQ J-6 Plans Defense Security Cooperation Agency Manager.
In the end, Dooley says the most valuable part of this training exercise was collecting the many different civilian, state, and federal departments from across the state into one training location and providing them with the opportunity to have face-to-face engagements and to familiarize them with one another for future emergency operations.
"The value is when these people go back to their home stations, they realize that they exchanged business cards with people from different regions of the state and they know what their capabilities are and they know those people and know who to call during a disaster," Dooley said. "It makes communities far more resilient than they could ever be."
Sgt. Jorden Newbanks
Minnesota National Guard Public Affairs