Camp Ripley Welcomes Community to New Fire Hall Grand Opening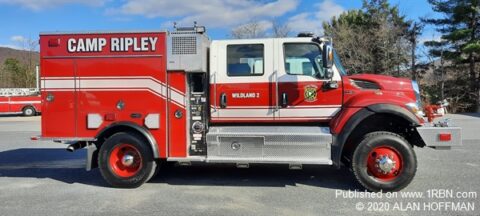 March 30, 2022 (Little Falls, Minnesota)– The Minnesota National Guard's Camp Ripley is celebrating their new fire hall with a grand opening and ribbon-cutting ceremony on Friday.
"The new fire hall enables our fire department to continue to serve Camp Ripley and the surrounding
communities," said Army Brig. Gen. Lowell Kruse, Senior Commander for Camp Ripley. "This department
is one of the most dedicated, hardworking, and passionate fire departments in the state, and now they
have the fire hall to meet their needs and workload."

"One of the Minnesota National Guard's organizational priorities is partnerships, and the Camp Ripley
Fire Department meets that priority every time they support the local first responders in our
surrounding communities," said Kruse. "This department and fire hall is not only for Camp Ripley but for
our community partners as well."

The new fire hall meets the Minnesota National Guard's organizational priority of modernization. To
ensure Camp Ripley's Fire Department maintains its 24/7 mission, the new fire hall is equipped with five
private rooms, four offices that double as a sleeping area, a new day room, and a full kitchen.

"The team here is really excited about this new fire hall and what it provides to us," said Pat Boone the
Camp Ripley Fire Department Chief. "It affords us the opportunity to rest, prepare, and reset for any call
that we are needed at. We have always been able to keep 24/7 operations, but this new building
enables us to work smarter, and to be at our best whenever the moment calls for us to be."

The Camp Ripley Fire Department responds to on and off post calls and has mutual aid agreements with
the three surrounding communities (Morrison and Brainerd County and the city of Pillager) and a
cooperative agreement with Mayo Clinic, which houses a paramedic team on site. From 2021 to 2022,
they have responded to more than 20 structure fires and more than 360 medical calls.