Cyber Protection Team Keeps Minnesotans Safe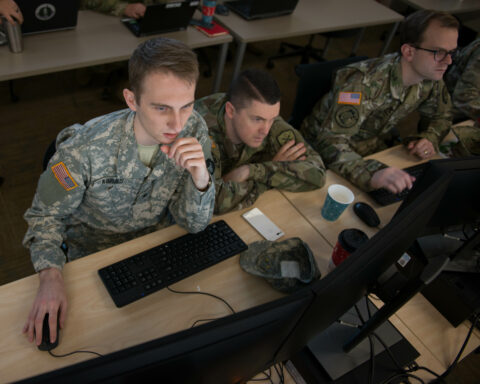 Jan. 7, 2019 (ST. PAUL, Minnesota) — The Minnesota National Guard is preparing for emerging cyber security threats by establishing a Cyber Protection Team. The team's mission is to provide the Department of Defense with capabilities to defend information networks through vulnerability assessments, penetration tests and discovery and counter infiltration scenarios at both the federal and state level.
The Cyber Protection Team aligns with the Minnesota National Guard's emphasis on strengthening organizational safety and security, providing a workplace that is cyber-aware so as to execute sound practices that mitigate cyber-based threats. The unit is comprised of six separate teams: leadership, support, readiness, mission protection, cyber threat emulation and the discovery and counter infiltration team.
The mission protection team got its first member on the books with Spc. Dustin Kimmes in October 2017. Already trained as an intelligence analyst with the Minnesota National Guard, Kimmes only had to spend four weeks at an Introduction to Cyber course to make him the first fully-qualified team member.
"There are a total of 11 Cyber Protection Teams in the Army National Guard," said Lt. Col. Daniel Cunningham, the 177th Cyber Protection Team, 91st Cyber Brigade team leader. "We all belong to the 91st Cyber Brigade."
Minnesota is one of four Army National Guard states to have a complete Cyber Protection Team with 39 positions, said Cunningham. The other states with complete teams are California, Georgia and Virginia. The remaining seven Cyber Protection Teams in the Army National Guard are split between multiple states.
Cyber is a low-density Military Occupational Specialty, along with paralegal, chaplain and logistics positions, which are necessary to mission success but require fewer Soldiers in those roles.
Cyber is a challenging field to recruit for because of the 48-week Advanced Individual Training and additional schools that are required to be fully qualified. The Minnesota Cyber Protection Team is still looking to fill positions to complete their 39-person team.
On-the-job experience helps bridge the gap for eligible applicants, which is one reason Kimmes is a unique and highly-valued member of the team. As a full-time Information Technology Security employee for Fairview Health Services and a Cyber Operations student at the University of Arizona, Kimmes is well-versed in both information technology and cyber security.
"Not all intel analysts that you're going to find have an IT background," said Cunningham. "So having both of those skill sets is really good. It's been impressive having him on the team."
The Cyber Protection Team has also benefited Kimmes by combining his military service and his passion for cyber.
"I've always had an interest in cyber security," said Kimmes. "I joined a startup doing cyber security when I was in college and just fell in love with it. My favorite part of the Cyber Protection Team has got to be the camaraderie I have with my peers. It's a really good learning experience and good people to be around."
Looking toward the future, the Cyber Protection Team plans to fill their remaining positions, get Soldiers fully qualified and prepare for cyber exercises such as the Cyber Yankee Exercise in 2020, a regional cyber exercise that focuses on defensive cyber tactics.
Story by Sgt. Sydney Mariette, Photos by Sgt. Luther Talks
Minnesota National Guard