Deployed Minnesota Guardsman honors grandfather, Hmong heritage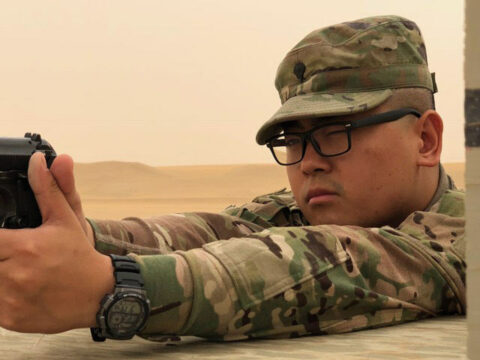 May 17, 2018 (CAMP BUEHRING, Kuwait) — "My heritage is Hmong," said 21 year-old Minnesota National Guard Spec. Brandon Xiong from his desk at Camp Buehring, Kuwait. "A low-key culture that originated from southern Asia. Hmong is not a place, but it is a people."
Xiong, the eldest grandson of the late Col. Song Leng Xiong, is deployed in Kuwait as an information technician for Area Support Group – Kuwait.
"We were not nomadic, but have been in many different conflicts," said Xiong. "Many places I go, I am questioned about my nationality and when answered, end up being even more confused. There is a movie called, "Gran Torino", where Clint Eastwood is introduced to the Hmong culture and I think it portrays the Hmong people not so terribly."
May is Asian American Pacific Islander Heritage Month. This month the Army makes time to celebrate the important contributions of individuals of Asian/Pacific Islander descent to the nation, both historically and today. For Xiong, he knows first-hand about the contributions of the past from his grandfather.
"The Hmong people were allies to the Americans during the Vietnam War, helping with rescue and escort missions because the fight took place right in our backyards," said Xiong. "My grandfather, Col. Song Leng Xiong, became a very big role model, not just to me, but many of the Hmong people."
Col. Xiong was credited with saving at least seven American pilots who were shot down over Laos. He was part of the "secret war" against communist forces in Laos during the Vietnam War. In 1993, Xiong migrated to Minneapolis, Minnesota. and became active in Hmong civic affairs in and around the Twin Cities. After his passing, St. Paul, Minn. proclaimed Nov. 5, 2016, as Col. Song Leng Xiong Day amid a traditional three-day funeral for him in the capital city.
"The Hmong culture is heavily influenced by elders and ancestors. So many of their stories and wisdom from the war were passed on to the younger generation," said Xiong. "I grew up hearing many stories from him and met many people coming to keep him company during his old age. I was astounded by his life and travels in the military."
"I joined the military to carry on the torch of my grandfather. He used to tell me not to join the military because he fought vigorously so we can enjoy a comfortable life in the United States," said Xiong. Although he disapproved, I enlisted to make an exciting life of my own to tell my grandkids one day."
He enlisted in the Minnesota Army National Guard as high school senior. He spent a couple years in Mankato working taking a year's worth of general classes at South Central College. When his unit, the Brooklyn Park-based 347th Regional Support Group Headquarters Company was notified of a pending deployment, he volunteered to be part of it. He looked at the deployment as an opportunity to grow and prepare for his future.
"I am working on myself and my skills to be able to attain a full-time National Guard position so I can devote myself not only to the military, but the Hmong people in Minnesota," said Xiong. Less than two-months into a nine-month deployment, he says it is already a rewarding experience. He is learning a lot about information technology from his leadership.
"Being away from familiar things has absolutely been a challenge," said Xiong, the eldest of 15 children in his blended family. Still, he is finding strengths in those unfamiliar places. "The best part about being here is learning about many other cultures from locals and Soldiers from across the United States. I can also spread cultural knowledge to others about the Hmong."
By Capt. Melanie Nelson
347th Regional Support Group