Donaldson welcomed to the Beyond the Yellow Ribbon program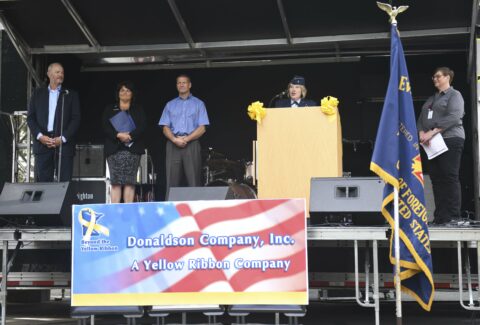 September 13, 2021 (BLOOMINGTON, Minnesota) — The Beyond the Yellow Ribbon Program of Minnesota welcomed its 80th company into the network this week with the dedication of Donaldson Company, Inc. Headquartered in Bloomington, Minnesota, Donaldson hosted an outdoor celebration on September 13, 2021, with employees and members of the community to commemorate the Yellow Ribbon Company designation.
Brig. Gen. Sandy Best, deputy adjutant general and chief of staff of the Minnesota National Guard, attended the event alongside Annette Kuyper, director of military outreach for the Minnesota Department of Military Affairs.
Donaldson employee and member of the 133rd Airlift Wing, Brian Mandt, worked directly and extensively with Kuyper to put in place a comprehensive action plan that the company will follow to ensure consistent support to its military service members and their families.