Enlisted to General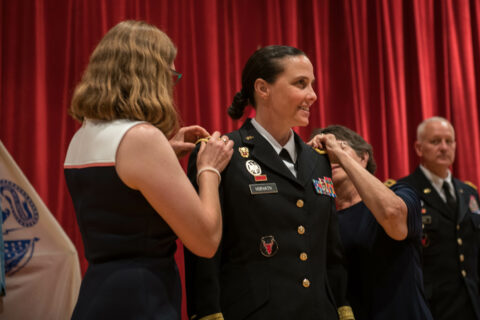 ROSEMOUNT, Minn. (July 9, 2019) — Stefanie Horvath's one constant mission has been to keep improving the Minnesota National Guard wherever she is requested. This mission has brought her from the path of an enlisted Soldier to where she is today, pinning on a star.
After 30 years of service, Horvath has achieved the rank of brigadier general and will take over as the Director of the Joint Staff for the Minnesota National Guard. She was promoted during a ceremony at the Rosemount Armory in Rosemount, Minnesota, July 9, 2019.
Horvath's path into information technology in the Minnesota National Guard began in 1999. The highlights of her career have been around creating a capability that never existed before, she said. These include the migration of an entire division network to a new satellite communications system while deployed with the 34th "Red Bull" Infantry Division, the creation of the Women's Leadership Forum, and the creation of the Cyber Protection Team.
Outside of the military, Horvath is the chief business technology officer at Minnesota Information Technology Services where she delivers enterprise IT services to Minnesota's executive branch, boards, commissions and councils.
"I'm a leader and I want to keep improving the organization," said Horvath. "The interesting thing about the military is that we are compelled to advance as individuals in all aspects: physically, mentally, even spiritually, and certainly as leaders."
She continues to improve and fill in needs wherever they are. That is what she will now do in her new role as director of joint staff. In this position, she will provide oversight to domestic operations in the state. This involves being in charge of coordination and collaboration to ensure the Minnesota National Guard is always ready.
"The Guard is getting called out to support state domestic operations on a more regular basis, facing greater and more complex incidents and events," she said.
Horvath is passionate about developing, engaging and increasing the number of women in technology.
Diversity is important to all organizational performance, she said. Women have phenomenal analysis skills that fit with IT, and they need to be brought into the infrastructure that goes forward.
To those women who are scared or nervous about going into technology, she says just do it. Keep at it and do not let it beat you. Look for projects and support others and as long as you keep moving forward, that's what matters.
Story by Sgt. Sebastian Nemec
Photo by Sgt. Sydney Mareitte