Holiday meal kit support – Register by Nov. 1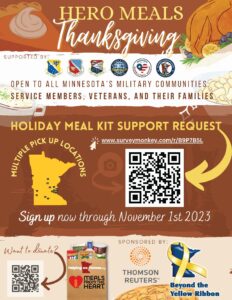 Beyond the Yellow Ribbon, Meals From the Heart, Thomson Reuters, and the Minnesota National Guard Soldier and Family Readiness Specialists team are once again partnering to provide food for the Thanksgiving holiday to those in need in the Minnesota military community. Through this annual effort, veterans, service members, and families in need in all military branches can register to receive a holiday meal kit. Monetary donations to purchase groceries for the meal kits are also accepted. Meals From the Heart is a non-profit organization and donations are tax deductible.
See the flyer for more details or e-mail Stefanie Hurt, Beyond the Yellow Ribbon community outreach coordinator, at stefanie.hurt@state.mn.us.