Finding fellowship in the sacred mission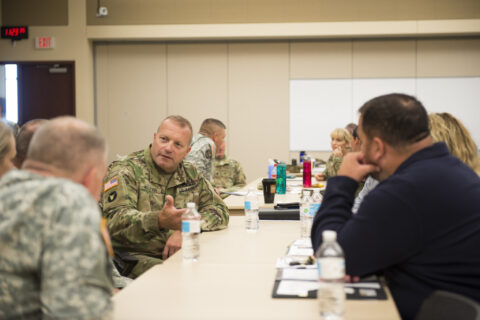 By Sgt. Sebastian Nemec
Minnesota National Guard Public Affairs
CAMP RIPLEY, Minn. (Sept. 26, 2017) – One of the most difficult, most sacred, honorable duties in the military is one that people don't often think about. It takes compassion, empathy, care, and requires great resilience. It is one that when called upon to train for, they hope to rarely perform because it means another Soldier has been lost. It is the duty of casualty notification officer and casualty assistance officer.
About 45 Minnesota Army National Guard Soldiers came to Camp Ripley, Minnesota, on September 21-22, 2017, for a Reset Seminar to find fellowship in one specific thing they have in common: delivering the worst news in the Army.
When a Soldier dies at home or overseas, CNOs and CAOs must notify and help families through the process, including paperwork, benefits, and funeral arrangements.
This can be a heavy weight to carry.
"It was the hardest thing I've ever done," said Sgt. 1st Class Angela Bredessem, a CNO and CAO. "It took a lot to process that afterwards. I felt like a horrible person."
Bredessem performed her first, and so far only, CNO mission in April 2011. She notified Valerie and James Kennedy that their son, Spc. Joseph Kennedy assigned to the 1st Infantry Division out of Fort Knox, Ky., was killed in action in Afghanistan.
These Soldiers watch as families process hearing their worst fears. Reactions range across a spectrum of emotions for the families as well as the Soldiers delivering the news. Sometimes it takes the CNO or CAO time to come to terms with their experience as well.
"It took a long time to realize I was still holding it in," Bredessem said about suppressing her feelings after her CNO mission. She immersed herself in her work and kept herself busy, but after six or eight months, her husband recommended that she talk to someone.
"You can't keep that inside, you have to talk to someone," she said.
During the two-day seminar, the Soldiers had the opportunity to share their stories and experiences. They ranged from showing up to an address with no one home to having to notify kids. People outside the military can't always comprehend what it's like, Bredessem said.
"[This duty is] a very honorable thing to do," said Sgt. 1st Class Jennifer Wright, casualty operations noncommissioned officer in charge with casualty operations in the Minnesota National Guard. She understands that being called for this duty can be hard on the Soldiers notifying and helping the families as well.
"I really need you, and you're really making a difference," Wright said to the Soldiers at the seminar.
Valerie Kennedy also came to talk with the Soldiers at the seminar about her son, as well as how important the CNO and CAO duty is.
"You've made a difference for that family in their darkest hours," Kennedy said. "It's a very difficult journey for all involved."
Since her son's death six years ago, Kennedy has been active in Survivor Outreach Services and other military organizations that help families of fallen service members.
"Everything I do each day, I want to make sure it is significant," Kennedy said.
Sometimes the face of a CNO, the Soldier who delivered the notification, can be hard to see again for families. So the CAO works with the family afterward to make it easier.
"That job, although not glamorous, is something we need to do," said Command Sgt. Maj. Douglas Wortham, command sergeant major of the Minnesota National Guard, as well as a former casualty assistance officer, at the beginning of the seminar. "If not us, if not me, then who?"
The Reset Seminar was the first in Minnesota since 2010. Chaplain (Lt. Col.) Philip Winn, full-time support chaplain for the Minnesota National Guard, and Wright felt it was important to put this seminar together. The Soldiers in attendance agreed.
"To be able to talk to someone who has also gone through it is helpful," Bredessem said. "We needed it."