Food truck vendors impacted by COVID restrictions employed by Minnesota to feed National Guard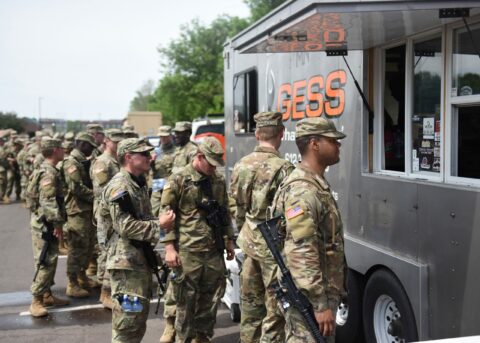 June 8, 2020 (ST. PAUL, Minnesota) — Local food truck companies prepared food for Minnesota National Guard Soldiers and Airmen who were activated to support the cities of Minneapolis, St. Paul and the surrounding communities during civil unrest. They supported multiple locations throughout the metro area.
The Minnesota National Guard was struggling to identify food vendors who could provide meals to service members working the civil disturbance operations.
"We were calling everyone," said David Lein, the director of support to military operations for the Minnesota Department of Military Affairs. "We hooked up with a couple of small Mom and Pop vendors which led to food trucks and the light bulb went on. The team worked with all the small vendors and food trucks who were able to move between sites as troop numbers went up and down each day. They were very flexible and this is the new way we are going to approach State Active Duty missions."
The vendors served over 165,000 meals, earning $2 million "that goes right back into the economy," said Lein. "Three vendors were in tears that they were on the verge of bankruptcy due to COVID. One was a business that has been in the family for 60 years. Many of the food truck vendors had not ever serviced that many people at once and had not done breakfast but now they know how to do both."
A variety of small businesses have benefited in this time of crisis. "Approximately 16 of the 20 businesses we contacted were on the verge of going under," said Staff Sgt. Kyle Miller of the 1903rd Acquisition Team. "Once we got the ball rolling, they were able to feed 7,500 soldiers within five hours."
The veteran-owned GI Joe's Food Truck is one example. "This program saved my business," said Tom Heinrich. "Because of the pandemic, there were no large-group gatherings which is where a food truck survives and therefore I have had no sales all season."
The Minnesota National Guard is very appreciative of the food service. "I have never been thanked for such good food so many times in one day," said Heinrich. "It is really uplifting and phenomenal. These are the finest group of soldiers that exist in the military I am sure of that." Heinrich's team utilized their truck and the Stillwater armory kitchen to prepare food for Soldiers.
Many more local restaurant food trucks served three meals each day to National Guard Soldiers and Airmen at the Army Aviation Support Facility in St. Paul, the Bloomington, Minneapolis, and Saint Paul armories, and the Minneapolis Convention Center. A minority-owned barbecue truck provided three meals each day for the Cedar Street armory in St. Paul.  A one-man ballroom company near Camp Ripley, served 1,000 people each day from the new kitchen facility in the Camp Ripley building that was recently destroyed by a tornado. A Saint Paul sandwich company delivered individual meals directly to the military serving in the protest area.
Story by Master Sgt. Daniel Ewer