Forging a path to career success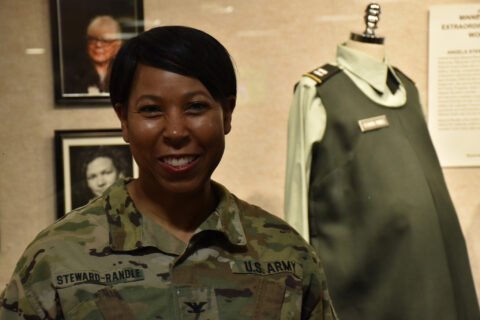 By Master Sgt. Blair Heusdens
Minnesota National Guard Public Affairs
ST. PAUL, Minn. (March 16, 2018) – Col. Angela Steward-Randle grew up in a military family – her father served in the Army on active duty – but it was a chance encounter with a friend at college that led her to want to make the military a career.
"My story is no different than many others," Steward-Randle, the Director of Human Resources, Manpower and Personnel for the Minnesota National Guard said. "I was in college and looking for financial resources to help pay for it."
Her college friend suggested they attend a summer training with the Reserve Officer Training Corps that had no obligation and could earn them some money. The friend never ended up going, but Steward-Randle did. After earning recognition as the top honor graduate and receiving an offer of a scholarship, she was hooked.
Steward-Randle is now nearing the end of a 30-year military career as one of the most senior African American women in the history of the Minnesota National Guard. It's a career she's found rewarding, not because of the rank she's achieved, but because of the people she's been able to impact along the way.
Steward-Randle's accomplishments show how hard work, determination and commitment can help service members be successful in their military careers.
Early on, Steward-Randle wanted to make sure she was judged on her merit rather than her differences. She worked hard so that she wouldn't be seen by others in the organization as an anchor.
"When I came on, I didn't want to be seen as a female, because I'm a soldier, and then that separates me from my male counterparts," Steward-Randle said. "I didn't want to have that be a reason why they treated me differently. I tried hard to make sure that I met all the standards so if I was denied something it was because the organization didn't see fit for me to do it, not because I was deficient in any area."
Throughout her career, Steward-Randle served in key positions such as equal opportunity advisor, inspector general, sexual harassment and assault response coordinator, diversity and inclusion officer and suicide intervention officer. Many of these assignments involved working closely with, and helping, her fellow service members. With a degree in psychology and a personality that draws people in, she found fulfillment in jobs that made her feel like she was adding value to the organization.
"[The opportunities I've had] took shape around me, for me, or based on the need of the organization," Steward-Randle said. "Inherent traits and abilities that I have that worked well with those positions and the organization saw that's what they needed, so those were the ones that cultivated for me."
Now she is in a position to impact the careers of other soldiers. As a senior officer, Steward-Randle works to mentor others – especially females and minorities – to help them progress in the organization. In her position as director of human resources, Steward-Randle blends her commitment to the organization with her drive to help others to ensure talented people find meaningful career paths.
"What makes Col. Steward-Randle successful is that she knows the needs of the Minnesota National Guard and the goals of individual soldiers and airmen and is a master at marrying the two," Lt. Col. Cheryl Wachenheim, 34th Infantry Division Public Affairs Officer said.
In the time she's been in the organization, Steward-Randle has seen a shift in how service members are valued. An emphasis has been placed on recruiting and retaining diverse individuals, but at the end of the day selecting the most qualified person for the job.
"We put more focus on the talent that we have," Steward-Randle said. "It's not whether you're male or female or black or white, it's the talent that the person has and what they can bring to the table, regardless of who they are. I think we've changed from that when I came in a long time ago. It starts from the leadership understanding that the community and the world is changing and we need to change with it if we're going to continue to be a viable force."
Three decades later, the college student who couldn't picture herself in the military, is now having a hard time picturing herself outside the military. As she transitions to a new career in the civilian world, Steward-Randle says her biggest challenge is finding an organization to work for outside of the military where she feels like she's contributing to something as meaningful as her time in the military.