Governor Mark Dayton installs new Minnesota National Guard Adjutant General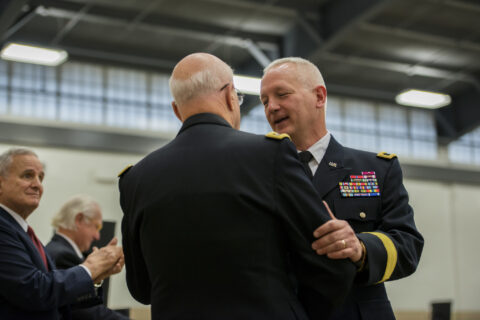 By Master Sgt. Blair Heusdens
Minnesota National Guard Public Affairs
ST. PAUL, Minn. (Nov. 4, 2017) – Minnesota Governor Mark Dayton administered the oath of office to Maj. Gen. Jon A. Jensen, installing him as the Minnesota National Guard's 31st Adjutant General during a ceremony in St. Paul, November 4, 2017.
"General Jensen has been a tremendous leader of the Minnesota National Guard throughout his years of dedicated service," said Governor Dayton. "He has served in two top leadership positions, as the Commanding General of the 34th Red Bull Infantry Division, and also as the Chief of Staff at the Guard's Joint Force Headquarters. I am confident that he will continue to provide the same outstanding leadership as his predecessor, General Rick Nash."
Jensen most recently served as the Commanding General of the 34th Red Bull Infantry Division. He previously held positions as Deputy Commanding General, United States Army Africa and Southern European Task Force, Minnesota National Guard Director of the Joint Staff and Minnesota National Guard Assistant Adjutant General – Army.
The Adjutant General is the administrative head of the Minnesota Department of Military Affairs and the leader of the Minnesota National Guard, an organization with more than 13,000 members who live and work throughout the state.
"Our Adjutant General may be changing out today, but our end state doesn't change," said Jensen. "Our citizen-soldiers and airmen will remain capable of responding to our state's emergencies, protecting and defending our nation, and all the while remaining the most trusted institution in Minnesota."
Jensen takes over for Maj. Gen. Richard C. Nash who has served in the position for the past seven years. Nash will retire with more than 45 years of military service.
"It has been my sincere honor and privilege to serve as Minnesota's Adjutant General," said Nash. "I thank each and every one of you for your support, and urge you to keep our soldiers and airmen in your prayers as we move into the future."
During the ceremony, Governor Dayton promoted Nash to lieutenant general brevet, recognizing his many contributions to the state of Minnesota during his tenure of service.
"I thank Major General Rick Nash for his exceptional service to our state and nation, which includes the last seven years as the Adjutant General of the Minnesota National Guard," said Governor Dayton. "General Nash has provided superb leadership for the Guard and for the people of Minnesota. His devotion to our Guardsmen and women and their families has been incomparable."
Jensen will serve a seven-year term as Adjutant General and will lead the Minnesota National Guard as it continues to be ready to respond to help Minnesotans in times of disaster and support contingency operations across the globe when needed.