Help is here: Program assists those struggling with addiction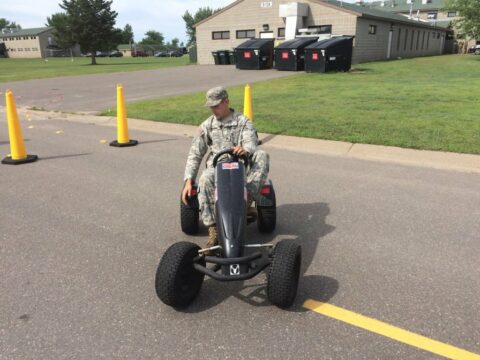 "Nobody wakes up and says they want to be an alcoholic. They get that way over time, over habits, and there's no shame in admitting that that is what's going on because it could happen to any of us," said Warren Anthony, who works as the Risk Reduction Coordinator for the Minnesota National Guard's Substance Abuse Prevention office.
Their mission is to help reduce the issues surrounding drug and alcohol use for service members, regardless of branch or component of the military. Anthony added that they would never turn any service member away.
"Right now, we're at a 1.89% drug failure rate, and we're running about the same for alcohol incidents at around 2%," said Anthony.
As an organization comprised of citizen- Soldiers and Airmen, Anthony sees these numbers not necessarily as a devastating problem for the Minnesota National Guard but more as a reflection of the society we live in here.
The Substance Abuse Prevention office is located at the Cottage Grove Armory and dedicated seven individuals provide support to those service members who may be struggling with addiction. Amongst those are two licensed drug and alcohol counselors, which is unique for government agencies and pivotal to what the Substance Abuse Prevention office does.
"The main thing we offer are two councilors who have been in the military themselves, so they are relatable," said Anthony. "They can give service members a free assessment, which is normally hundreds of dollars in the civilian world, and they can sit down and talk to the individual, mentor them with their ongoing issues, recommend treatment, and then help the service member get into treatment if needed."
This personalized care for service members seeking help is one of the greatest offerings of the Substance Abuse Prevention office. However, they also dedicate a large portion of their time and resources to prevention training.
"The role of our prevention coordinators is to get out to the units and educate service members and leaders of the challenges and pitfalls of drugs and alcohol," said Anthony.
They mainly do this through interactive demonstrations such as a peddle-cart driver's course with beer or marijuana simulation goggles or through powerful personal testimonials.
"I'm very confident in this area that we provide exceptional training that makes service members want to pay attention," said Anthony. "We need to be engaging so that the service members believe in the message we're putting down and that the organization feels it is valuable to take time out of their busy drill weekends."
One of their greatest successes is that every year the self-referral rate has increased. "That service members will feel comfortable coming to us in a very touchy situation, knowing that they can trust us. As a team in the business of helping service members, we feel that's strong validation that we're hitting the mark," said Anthony.

Anthony stressed that if a unit would like to request substance abuse prevention training or if individuals feel that they need to speak to someone regarding substance use or abuse, to please call their case management line at (651) 268-8909.
Story by Staff Sgt. Sydney Mariette, Minnesota National Guard Public Affairs