Honoring the Past: Minnesota National Guard Members visit U.S. Holocaust Memorial Museum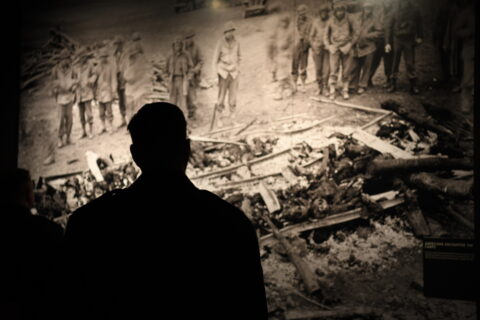 Through a Diversity and Inclusion initiative, which includes eight special emphasis councils, the Minnesota National Guard partners with community organizations to ensure that all are treated with dignity, respect, and remain vigilant in rejecting prejudice and persecution.
One of these special emphasis councils is the Holocaust Remembrance Special Emphasis Council which maintains a unique partnership with the Jewish Community Relations Council of Minnesota and the Dakotas. Working with the JCRC helps facilitate educational opportunities for its members to remember the past and uphold the values of the Minnesota National Guard.
One such opportunity is an annual trip to the U.S. Holocaust Memorial Museum in Washington, D.C. Alongside schools, police, and military organizations that also partner with the JCRC, dozens gather to fly and spend the day taking in the history that the museum and the D.C. area have to offer.
"The importance of understanding and continued learning about the Holocaust is why this day is so important to the Minnesota National Guard," said Army Maj. Nate Burr, program manager for the Holocaust Remembrance Special Emphasis Council. "Being able to bring members of the Guard here so they can learn, experience, and feel the stories told within the museum is the bedrock of the mission of the Special Emphasis Council."
Twelve members of the Minnesota National Guard participated in this year's trip on April 5, 2022, seizing the opportunity to learn more about the history of the Holocaust and why remembering it is so invaluable.
"What is something that hasn't already been said before about embracing the truth, honoring the past, and understanding the mistakes so that they aren't repeated again?" asked Army Sgt. Karoline Dugger. "What is something that we can learn from the Holocaust and [other genocides] to prevent them in the future?"
Special Emphasis Councils in the Minnesota National Guard are always recruiting and accepting more Airmen and Soldiers onto their teams. Gathering with peers and community members offers unique opportunities for service members to grow and reflect as they build bridges to communities. Air Force Chaplain Maj. Keith Beckwith had his own reflections on the event.
"The responsibilities that we have as citizens to always be cognizant of where we've come from helps us better be able to look to who we are yet to be, or where we're going. I wanted to go from ignorance in theory only to actual experience and exposure," said Beckwith. "I think it's important to get away from the books and to go and interact with the people; interact with material; allow yourself that process time and have some takeaways so that when revisionists come along and say, 'that didn't happen,' we can say, 'not only did it happen, but we want to live in such a way that it never happens again.'"
Story by Army Sgt. Linsey Williams
Minnesota National Guard Public Affairs