Inaugural Class – Minnesota Air National Guard Flight of Honor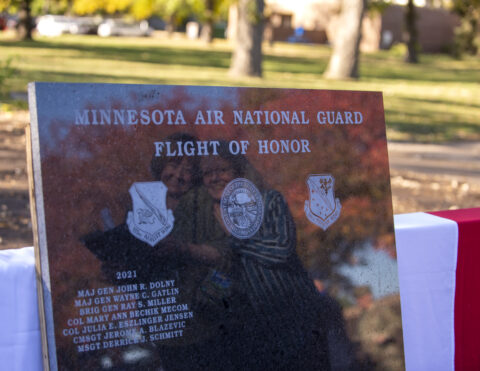 Seven Minnesota Air National Guard members were inducted into the Flight of Honor on Oct. 17, 2021. The Flight of Honor recognizes past and present Airmen from the 133rd Airlift Wing, 148th Fighter Wing, and Joint Force Headquarters who have distinguished themselves with notable professional achievement and service or heroism.
The inaugural ceremony was hosted by the 133rd Airlift Wing, honoring their 100th anniversary of aviation history. Next year, the 148th Fighter Wing will host the ceremony.
"The Minnesota Army National Guard has had a memorialization," said U.S. Air Force Brig. Gen. Sandra Best, Deputy Adjutant General, Minnesota National Guard. "The program called the Court of Honor dates to 1933. U.S. Air Force Maj. Gen. (Ret. Bvt.) David Hamlar had the vision to create a similar program for the Minnesota Air National Guard. So, in February of 2020, a group of fired-up retirees and Joint Force Headquarters staff began the process. Today, that vision becomes a reality."
Five were selected from the 133rd Airlift Wing for the inaugural class and two from the 148th Fighter Wing. Representing the 133rd Airlift Wing was Maj. Gen. (Ret.) John Dolny, Brig. Gen. (Ret.) Ray Miller, Col. (Ret.), Col. (Ret.) Mary Ann Bechik Mecom, Col. (Ret.) Julia E. Eszlinger-Jensen, and Master Sgt. (Ret.) Derrick Schmitt. Representing the 148th Fighter Wing was Maj. Gen. (Ret.) Wayne Gatlin and Chief Master Sgt. (Ret.) Jerome Blazevic.
"I was always proud to be a member of the 133rd Airlift Wing," said Mecom. "Receiving this induction to the Flight of Honor is very overwhelming, and I appreciate the recognition. It is not every day, 20 years after you have worked with someone and they are one of your enlisted people, that they positively remember you."
After the ceremony, everyone traveled to the monument located outside of the Operations Group building for the unveiling of this year's honorees.
"I'd like to recognize and thank those individuals that played a significate role in making this distinguished event happen," said Hamlar. "In particular, I'd like to thank the memorialization board for their time over the past two years developing, recommending, and gaining [The Adjutant General, Minnesota National Guard] approval for our Flight of Honor program."